June 16, 2017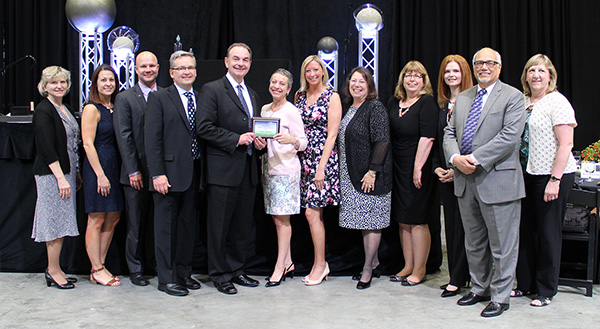 Recently, Diamond Credit Union was named one of the Top 50 Businesses in the Greater Reading area, by the Greater Reading Chamber of Commerce & Industry. Diamond is ranked as the 14th Greater Reading Top Business, and is therefore the highest ranking credit union on the list. Chamber representatives presented the award at the annual dinner on May, 24, 2017. This is the tenth consecutive year that Diamond CU has made the coveted list.
Celebrating the Achievement
The Diamond Team was thrilled to accept the award during the dinner celebration. In addition to being guests of honor at the dinner, Diamond was also a Bronze Sponsor. "We're honored to be recognized as a Greater Reading Top Business again this year. We exist to bring opportunity to every member of our community. This award is a good indication that we are accomplishing just that," stated John Faust, President/CEO of Diamond Credit Union.
The nominations for the Chamber's Top 50 are compiled by KPMG, a financial services firm. A proprietary formula, utilized by KPMG, takes in to consideration both dollar increases and percentage increases, thereby leveling the playing field for smaller companies.
Diamond CU is also the current Berks County People's Choice in Credit Unions and one of the Best Places to Work in PA.