May 4, 2022
Diamond Credit Union employees have been busy helping the community throughout the first few months of 2022. From celebrating a milestone anniversary, food drives and fundraisers, keep reading to see where Diamond lent helping hands in the community.
Photo (Above/Right): Diamond employees pictured at the 2022 Bowl for Kid's Sake that benefited Big Brothers Big Sisters.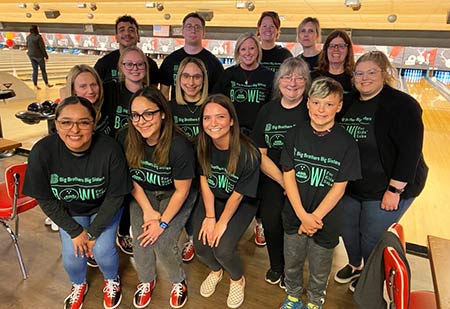 Tower Health Sock Drive
Diamond's Tower Health Reading Hospital Branch collected socks throughout March to benefit the patients of the A4 Podiatry Clinic in the hospital. Employees were able to collect 650 pairs of socks for the clinic.
Exeter 10th Anniversary
Diamond Credit Union's Exeter branch celebrated being open for 10 years on April 2. Employees and members celebrated a sweet decade with dessert and a younity-themed photo booth. Thank you to all of the members and staff that played a role in the success of the Exeter branch. Here's to another decade of fun.
Boyertown and Exeter Community Food Drive
Diamond's Boyertown and Exeter branches collected non-perishable food items during the month of April for the community. The food drives benefited Boyertown Area Multi Service's Preston's Pantry and Exeter Food Pantry.
Big Brothers Big Sister's Bowl for Kid's Sake
Although Diamond employees were competing at the bowling lanes, it was all for a good cause. Bowl For Kids' Sake is an annual event where about half a million people across America come together to have fun and raise money to support Big Brothers Big Sisters. Diamond had five teams that were able to raise over $2,000 to support Berks County youth.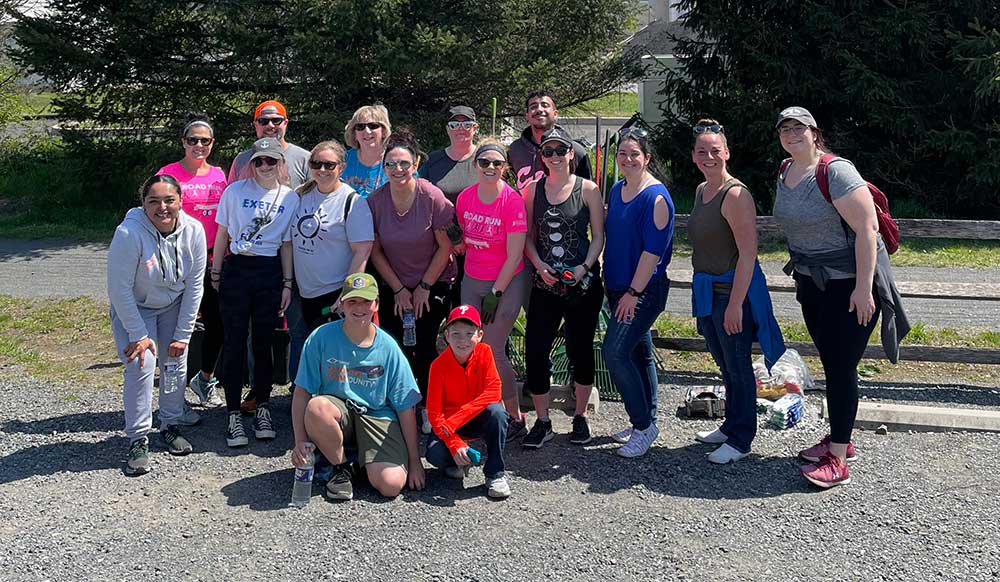 Photo (Above/Left): Diamond employees at the Schuylkill River Trail clean up on April 24, 2022.
Schuylkill River Trail Clean Up
Diamond employees and their families met at a portion of the Schuylkill River Trail on April 24 to help Schuylkill River Greenways (SRG) maintain and clean the trail. SRG relies on volunteers to keep the trails beautiful for everyone that uses them.
Read more about the trail clean-up.
2022 K's for Commyounity
Diamond is adding a fun twist to the Reading Fightin Phils 2022 season. For every strikeout the Fightins record against their opponents at each home series, Diamond will donate $10 to a preselected local charity. Charities that have received donations so far include Baseballtown Charities and Habitat for Humanity of Berks County.  During  2021 K's for Commmyounity, Diamond donated an average of $579 to each selected charity.
2022 Designer Purse Lottery
Diamond Credit Union kicked off the second Designer Purse Lottery to benefit the American Cancer Society's Relay For Life. You can purchase tickets online or at your local Diamond branch. Then tune into the PA Lottery's Evening Pick-3 for the month of June. If your lottery ticket number corresponds with the winning numbers, you win a purse valued between $168 and $498. All proceeds from the tickets benefit Relay For Life.
It has been a busy and rewarding start to the year for Diamond employees. The organization has had the chance to impact many lives of those in the community. This is all possible because of the members, employees, and volunteers that take the time to support these causes. Keep an eye out at your local branches for more ways to help the community throughout 2022.