July 14, 2022
July 19 marks 75 years of Diamond Credit Union (DCU) providing financial guidance and serving the Tri-County area, and recently Bucks County.
"Diamond has had an incredible journey over the last 75 years," Diamond President/CEO Rick Patel said. "Not only have we grown our assets and membership exponentially, but we've had the chance to help many community members grow with us along the way."
75 Years of Growth
Diamond Credit Union has had a few names since the organization first opened the doors in 1947. It began as Spicer Pottstown Federal Credit Union with just eight original charter members.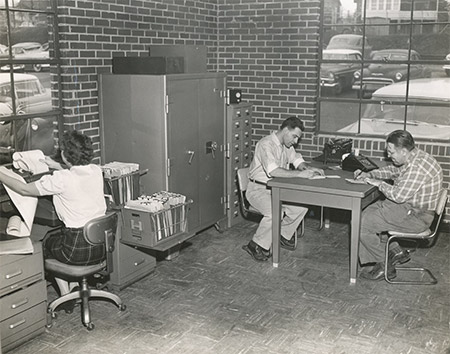 Photo (Above/Right): Diamond credit Union when it operated under the original name, Spicer Pottstown Federal Credit Union.
The Credit Union later operated as Dana Federal Credit Union (FCU), where the organization was able to attain $1 million in assets. As of 1962, Dana was the first million-dollar credit union in the Schuylkill Valley.
The next pivotal moment for DCU took place in 1983, when it was announced that federal credit unions could begin to serve the financial needs of more than one business. Dana FCU could then serve employees of businesses outside of Dana Corporation, which was originally Spicer Manufacturing Company. As a reflection of that change, in 1997 the Credit Union's name changed to the one community members know today, Diamond Credit Union.
Diamond was granted a change in charter in 2006. That change opened the Credit Union from only serving employees of select businesses to anyone who lived, worked, worshiped, regularly conducted business or attended school in Berks County and the Tri-County Region. In early 2022, the charter was expanded even further to include all of Berks, Montgomery, Chester and Bucks Counties. Since then, DCU has been expanding and continuing to serve members of the community, both financially and by supporting charitable efforts.
75 Years of Service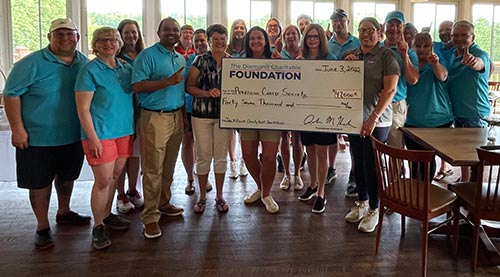 Diamond began as one branch and now serves over 61,000 members through its seven branches. Each location brings an opportunity for Diamond employees to make a difference in their communities by guiding, growing and giving back.
Diamond employees host food drives, toy drives, fundraisers and more at any given moment. Employees have supported many local organizations over the last 75 years to make the "that's younity" culture come to life.
In 2022, Diamond created The Diamond Charitable Foundation to further the organization's commitment to serving and helping the community.
One of DCU's biggest partnerships and charitable efforts is with the American Cancer Society's Relay For Life. Since 2006, Diamond has partnered with Relay For Life to fight to end cancer and support those that have been impacted by cancer.
Diamond supporters and volunteers have raised over $1 million since. The 2022 John M. Faust Charity Golf Invitational marked Diamond's largest donation yet of $47,000.
Photo (Above): Diamond Credit Union Volunteers presented the $47,000 donation to the American Cancer Society at The 2022 John M. Faust Charity Golf Invitational.
75 Years of Financial Guidance
It is Diamond's mission to guide members through their financial journey. Diamond is more than a place for you to keep your money. Staff members are always looking for ways to help members with their finances.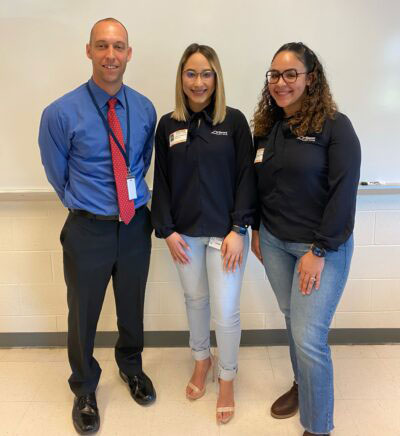 Diamond employees also believe in helping young adults understand finances early on so they can manage their money better in the future. Branch employees have visited schools to teach kids how to manage their money and what kind of expenses they can expect.
Photo (Right/Above): DCU's Assistant Branch Manager, Kaylee A. (right) and Membership Officer, Lizbeth B. (center) assisted Mr. Stamy at a Financial Literacy Class he teaches at Daniel Boone High School.
Diamond's partnership with ZOGO has also allowed the organization to help members better understand finances. Through ZOGO, members have completed over one million snippets to learn how to manage their finances.
It Doesn't Stop Here
Diamond has accomplished all of this and more because of the employees and members that work together to make it happen.
From earning Best Places to Work, People's Choice awards, being awarded Best of Berks and more. It has been a memorable 75 years for Diamond Credit Union.
"We look forward to continuing our service and growing Diamond to help as many members of our communities as possible," Patel said.
75 years of guiding, growing and giving back…That's Younity