February 10, 2021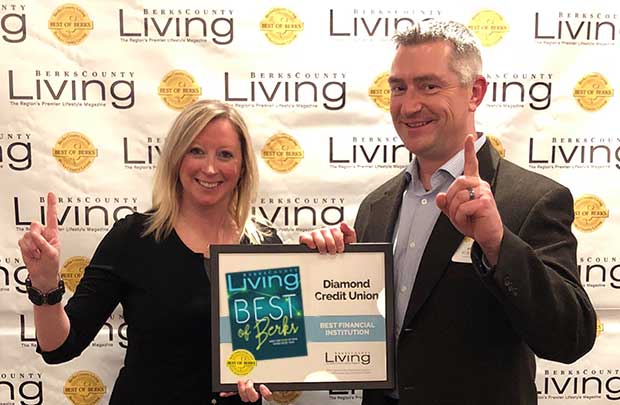 L-R: Diamond Credit Union's Cori Colman, Exeter Branch Manager, and Rob Hackash, Director of Branding, accept one of Diamond's three Best of Berks – Financial Institution Awards.
Diamond Credit Union has promoted Rob Hackash to Director of Branding. This is a new position at the credit union.
In his new role, Hackash will set brand standards aligned with the credit union's goals and strategic initiatives; lead the creative development of brand and marketing to improve brand recognition and reputation; and ensure brand integrity.
"Rob has brought years of marketing talent to the Diamond team," said John Faust, President/CEO of Diamond Credit Union. "Through this new leadership position, he will execute existing and new strategies for the credit union to achieve an even higher level of brand awareness in our market."
Since joining Diamond as the Marketing Manager in 2018, his team has increased brand recognition and grown membership. The team has helped build strong relationships with local businesses and charitable organizations to help our community. The team led visual updates to the younity brand, championed web upgrades and the use of Diamond's mobile app, NetBranch and other communication tactics to reach members.
Hackash and his team have increased Diamond's member and staff-centric messages through several digital platforms. Their efforts earned the department the 2020 It's Electric! MIC Award for Excellence in Digital Marketing. Presented by CrossState Credit Union Association, Diamond won in the large credit union category, that included a field of all credit unions in Pennsylvania and New Jersey with over $250 million in assets.
The results Hackash and his team have accomplished for membership and branding can also be said for Diamond's position in the mortgage and business services markets where awareness and relationships have also grown substantially.
A graduate of DeSales University, Hackash earned a Bachelor of Science in Sports Management with a focus on communications. Prior to joining Diamond he spent over 20 years in the sports industry. Hackash earned an Innovation and Entrepreneurship Certificate from Stanford University. He is also a volunteer on the Digital Marketing Advisory Council for professionals pursuing a certificate, the faculty, and staff in The George Washington University School of Business Executive Programs.
Like all Diamond teammates, Hackash is active in the community. He has given his time and talent to support United Way of Berks County, the American Cancer Society and more. Hackash served a two-year term on the committee for Diamond's employee Wellness Program. He has been a volunteer in Fleetwood area youth baseball programs since 2016 and is a USA Baseball certified coach.
Passionate employees working together for the benefit of their member-owners…that's younity.