October 1, 2014
Financial protection provided by the FDIC and NCUA, for banks and credit unions respectively, guarantees your savings and checking accounts are insured, up to $250,000, if your bank fails.  But it's still important to understand the financial health of your financial institution and what risks could be coming your way.
How Healthy is Diamond Credit Union?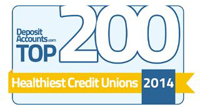 The short answer…EXTREMELY! Diamond Credit Union is ranked as the 13th healthiest of all federally-insured credit unions in the nation, and the #1 credit union in the state of Pennsylvania, as reported in the 2014 edition of the Top 200 Healthiest Credit Unions in America.
"We are really proud of this distinction and its reflection on our organization," says President/Chief Executive Officer John Faust. "To be recognized both nationally and locally as the most financially 'healthy' credit union in Pennsylvania is a testament to both our employees and our members, who work together to provide the best financial care to our local community. This report shows that Diamond is a safe and secure place to keep your money."
Health Records Are Available.
To monitor the health of the country's banking institutions, both the FDIC and NCUA have created watch lists of banks and credit unions they believe are at risk of failing.  However, to avoid building panic and creating a rush to remove assets from these financial institutions, which would ultimately create more failures, they don't publicize these lists.
Yet there are still services available to provide unbiased and comprehensive ranking of financial institutions. As we mentioned above, DepositAccounts.com was established to cut through the clutter and provide reliable information for customers when researching and choosing a financial institution.
They evaluate the financial 'health' of every federally-insured bank and credit union in the United States – more than 6,600 total. Each institution is graded on a number of factors in order to determine a comprehensive health score, which is then compiled and reported in an annual edition of the DepositAccounts.com Top 200 Healthiest Credit Unions in America and Top 200 Healthiest Banks in America.
DepositAccounts.com has a full list of the 2014 bank and credit union rankings where you can see if your financial institution is in good financial health.
How Healthy are You?
Diamond Credit Union members are eligible for a free Loan Health Check-Up. This check-up, with guidance from our Loan Consultants, includes a full credit report and score, and review of your current and prospective loans, to make sure you're getting the best rates for your personal situation and budget.
Contact Diamond Credit Union at 610-326-5490 to schedule a Loan Health Check-Up today!