January 2, 2020
When it comes to running a small business, it's natural to take out a term loan or access a line of credit to grow your company. However, debt becomes unhealthy when it puts your business at risk. Unfortunately, 50% of small businesses fail within the first five years due to inadequate cash flow, poor credit arrangements, or too much debt. If you're wondering how to pay off small business debt, you've come to the right place.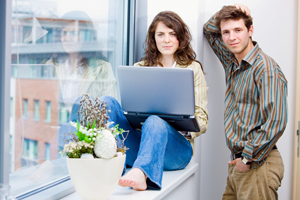 What is Small Business Debt?
Here are four of the most common types of small business debt:
Small business term loans
Small business lines of credit
Small business credit cards
How Can Small Businesses Get Out of Debt?
If you've found your business is struggling and you're not sure how to get your small business out of debt, then you'll want to start by selecting a debt reduction strategy.
Devise a Debt Reduction Strategy
You have a variety of options when it comes to debt reduction strategies. Here's a short list of your choices:
Work with a credit counselor to create an essentials-only spending plan. Identifying unnecessary expenses will help you pay off your debt more quickly.
Put a predetermined percentage of your profit towards paying down debt each month.
Use the stack method to pay off your highest-interest loans first. Start by calculating your "stack payment," which is how much you can afford to pay towards your debt each month. Once your highest-interest loan is paid off, work on the next highest-interest loan. Repeat this process until all of your debt is completely paid off.
Use the snowball method to pay your loans off based on their balance, rather than their interest rate. Start by paying off the loan with the lowest balance. Then, move on to the loan with the next lowest balance. Use the amount you were paying on the first loan and add it to your payment on the 2nd loan. Repeat this process until all of your debt is completely paid off.
Eliminate Unnecessary Spending
You'll also want to eliminate unnecessary spending until you're back on your feet. Here are a few ideas to get you started:
Eliminate marketing channels that aren't generating sales or leads.
Sell office furniture and equipment that you don't use frequently and rent instead.
Skip daily coffee runs, weekly team lunches out, and catered in-office meals.
Assign an ROI to each business expense. If the ROI is lower than your loan term's APR, cut it from your budget.
If you have a few employees, consider downsizing to a home office or co-working space.
Ask Creditors to Work with You
You may be surprised by how willing some creditors are to work with their customers. Start by asking them how to pay off small business debt and whether they'll lower your interest rate. You can also ask them to lengthen your loan term, which will lower your monthly payments.
If you're in dire financial straits, you might want to apply for a hardship program. This typically involves submitting a hardship letter that thoroughly explains your current financial situation. You'll need to provide official proof that you need help to meet your debt obligations.
Create (And Stick To) a New Budget
One of the best ways to get your small business out of debt is to create a new budget that you can actually stick to. Start by identifying which bills can't be eliminated (like rent and utilities). Creating an essentials-only budget will help you put as much money as possible toward your debt each month.
Paying off your debt more quickly means you'll pay less interest in the long run. One way to help yourself stick to your new budget is by automatically forwarding your monthly payments to your creditors.
Figure Out Ways to Boost Revenue
There are a variety of ways you can boost your revenue (and put more towards your debt) that won't break the bank:
Holding sales on your most popular products and services
Up-selling to customers both in-store and online
Incentives for referrals and testimonials from loyal customers
Adding new products and/or services to your lineup
Extending your business hours
Switching to a more affordable supplier
Creating loyalty programs for valuable customers
Consolidate Your Debt
Finally, you may be able to consolidate or refinance your debt. These options aren't right for all small business owners, but they can be effective in some cases.
Debt consolidation involves combining all of your debt into one loan. You'll only want to do this if you can get a lower interest rate and lower monthly payments. You'll find that only making one payment to a single creditor can simplify the loan payback process.
Debt refinancing typically takes place after you've consolidated all of your debt into one loan. At that point, you'll refinance your new loan to get a lower interest rate.
Not sure how much debt is too much for a company? Our experts are here to help. Visit our Business Services Center and submit an Information Request today!