September 11, 2018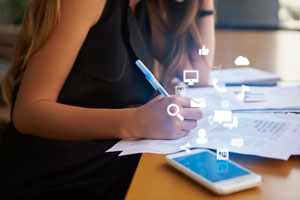 Technology has ingrained itself into our lives because of the way it makes day-to-day activities exponentially easier. Smartphone apps allow you to lock your doors when you've already left home, keep track of your appointments while on the run, or have groceries delivered right to your front door. Smartphones have also made it possible to have all of your financial information right at your fingertips. We've outlined several of the best money apps that you can use for everything from protecting your debit card and staying on budget to saving more money and managing your kids' allowance.
I want to … Get Rid of My Checkbook
Accounts2
If you're ready to break free from manually balancing your checkbook with pen and paper, you need to check out the Accounts2 checkbook register app. With this app you can:
Track your checking, savings, and credit card activity.
Set-up reoccurring ledger entries (such as your rent or student loan or paycheck deposits), as well as individual deposits or payments.
Track all monthly spending and sort into categories for a big picture of your spending habits.
Touch ID and Face ID safety features are available, along with digital backup copies of your records. The app cost $2.99 to download. Only available for iOS devices.
I want to . . . Grow My Savings
Acorns
This is one of the best money apps you can use when you're trying to build emergency savings, save for a downpayment on a home, or just buy yourself something special. What's best about Acorns is that it's low-stress money management — you're saving money without really thinking about it.
For every purchase you make, Acorns will round up to the next dollar and the extra money will be saved. When you buy your daily coffee for $3.25, an extra $0.75 will go into savings. You can add more money into your savings when you:
Set amounts for automatic deposits every day, week, or month.
Add an occasional lump sum (from work bonus, tax return, birthday money, etc.) to savings.
Get cash-back deposited into your account for shopping with certain brands.
Your savings are atomically deposited into an investment account for future growth. There is a $1 fee per month for the basic plan.
Learn More about the Acorns App
I want to . . . Track How Much I Spend/Stick to a Budget
Wally
All those small purchases you make every day can really add up without you noticing. If your financial goal is reign in your day-to-day spending, Wally is one of the best money apps to try. Using Wally, you can:
Get a 360° view of your money — what you earn, what you spend, and what you have the potential to save.
Scan your receipts to keep track of how much money you spend daily and what you're spending it on.
Enter a monthly income, track how much you spend, and see how much you're on track to save
This is a great app to use if you track work expenses for reimbursement. The basic service is free but you can add premium upgrades that range from $0.49 to $4.99.
Learn more about the Wally App
I want to . . . Teach My Kids About Money
Centsables – Dash for Cash
The Centsables® are a team of financial superheroes who defeat the evil villains and rescue people from financial traps. Endorsed by the Jump$tart Coalition® for Personal Financial Literacy, the Dash for Cash app is for children ages 5-10. It combines fun with financial literacy and provides many activities to engage and teach children about money.
To download, visit the Fun & Games section of their website or search for the app in the App Store or Google Play. This app is free and contains no ads.
Learn more about the Centsables
Rooster Money
Teaching children financial responsibility now can help them avoid costly mistakes in the future. Rooster Money is a money management app that lets your family track how much money your children are earning and whether they're saving it wisely or spending it quickly. Here's how it works:
Set-up a profile for each child to track how much money they earn through allowance or gifts from relatives.
Your children can set savings goals — $50 for new sneakers or $300 for a video game system — and watch their progress towards meeting that goal.
Money can also be deducted from their savings if they want to buy a snack or new toy while you are out and about.
The app also has PLUS upgrades that include a chore tracker and adding interest to your children's earnings. The basic plan is free to use and the cost for PLUS upgrades is $2.50 per month.
Learn more about Rooster Money
I want to . . . Protect My Money
CardNav
We've all had that moment of panic when we're searching for our debit card and realize it's gone missing. CardNav, a specialized app for credit union members, gives you peace of mind in moments like this. Card Nav offers enhanced protection against fraud and misuse of your debit card. Secure a missing card by turning it off in seconds, then quickly turn it back on if the card is found.
Even when your card is safely in your possession, you can use the app to:
Control the types of purchases allowed on the card or approve certain vendors.
Set a dollar limit for card transactions.
Set geographic limits on where the card can be used.
Receive real-time notifications of card usage.
Available for iOS and Android devices.
FOR DIAMOND CREDIT UNION MEMBERS
I want to . . . Manage My Diamond Accounts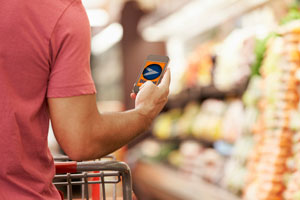 Diamond Credit Union Mobile Banking App
With Diamond's exclusive, members-only mobile app, you can take care of several common banking tasks at any time, from anywhere such as:
View account balances and transaction history. With the addition of one swipe viewing, this is easier than ever.
Deposit checks using your phone's camera. This means you don't have to make an extra trip to a branch or ATM to deposit checks.
Transfer funds between internal and external accounts. This gives you the ability to pay just about anyone and move your money between accounts.
Set up automatic bill payment for all your monthly expenses or pay one-time bills as they arise. You won't have to worry about late fees again!
For added security, the Diamond mobile app even works with Touch ID and Face ID authentication on applicable smartphones.
Download Diamond's Mobile Banking App

Good financial habits start with a solid understanding of finances. These apps encourage smart saving and spending and make achieving your goals easier.