March 10, 2017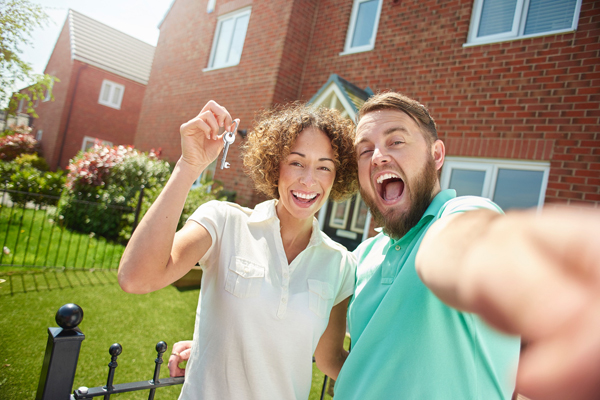 In recent years, first-time homebuyers have made up approximately 30-35% of the home sales landscape. With no previous experience in the processes of house hunting, applying for financing, or closing on a home, it's no doubt that mistakes are bound to happen. To help you avoid the common pitfalls (whether small or costly) homebuyers make every day, we asked our Diamond Credit Union Loan Officers to share their advice on the mistakes first-time homebuyers make most often.
First-time Homebuyer Mistake #1: Not having a clear idea of their finances.
Of all the mistakes first-time homebuyers make, this one can be the most costly. Starting the process without a clear picture of what you can afford, and how much money it really takes to buy and maintain a home, can result in more debt than you can handle.
The number one tool that all homebuyers need is an up-to-date budget. Create a list of all your monthly expenses; everything from car payments, student loan payments, credit card bills, childcare costs, groceries, gas, and insurance. Subtract this total from your monthly take-home pay and the difference should give you a good idea of how much you should be comfortable paying on a monthly basis for your mortgage and utilities, which shows how much home you can afford.
Additionally, you want to be sure that you don't use up all your savings for the down payment. Depleting your savings to purchase a new home puts you in a risky position if you're faced with a medical emergency, job loss, or major home repair. After paying your down payment, you should still have savings available to cover three to six months of expenses in case the unknown happens.
First-time Homebuyer Mistake #2: Determining payments off of their future lifestyle.
One mistake that many first-time homebuyers are tempted to make is determining what they are comfortable spending based off future earnings. Whether it's an annual bonus they expect to bring home or anticipated salary bumps that come with career advancements, they are relying on money they haven't yet earned.
Your future earnings may very well increase, but don't take this for granted and buy a home based on money that isn't guaranteed. You never know when your life, and your earnings, may veer off your plotted course, leaving you with a home you cannot afford. If you calculate your budget on your current earnings, then when your income does increase, it gives you more opportunity to invest that money in things you want to have, want to do, or for the future.
First-time Homebuyer Mistake #3: Looking for a home first and a mortgage later.
Touring potential homes is probably the most fun part of the homebuying process. With granite countertops, man caves, walk-in closets, and spacious backyards, it's no wonder first-time homebuyers want to jump right in. But before you step foot into any home, you need to visit a mortgage lender first.
Before you start a new home search, you should get pre-qualified by a mortgage lender. In this process, a lender will give you an estimate of the mortgage amount for which you could potentially qualify. Skipping a pre-qualification puts you at risk of falling in love with a home that you won't be able to afford.
After supplying your lender with information on your income, debt, and assets, they will let you know the amount they would feel comfortable lending you. A pre-qualification is just a tool to get you started and does not guarantee that you will be approved for a mortgage at this amount from this lender.
First-time Homebuyer Mistake #4: Not getting professional help.
Next on our list of top mistakes first-time homebuyers make is not getting the professional help needed in purchasing a home. First-time homebuyers are often under the wrong impression that they will need to pay a realtor for their services and instead opt to navigate the homebuying process on their own. This mistake has the potential to be very costly if you end up overpaying for your new home.
The truth is that the homebuyer does not pay any realtor fees. It's the seller who is responsible for paying commission to their selling agent and your buying agent. Find a reputable realtor (word-of-mouth referrals are best) and use their knowledge and expertise to your advantage.
First-time Homebuyer Mistake #5: Taking on new debt before their mortgage is closed.
If buying a new home is a priority, make it your top priority, and avoid taking on any new debt during your homebuying journey. Adding new debt affects your credit score, which mortgage lenders rely on to determine how much money they are willing to lend you and what interest rates and mortgage terms are available to you. This means putting off plans for opening a new credit card, buying a new car, or applying for student loans until the mortgage process is complete.
Staying informed and educated along the homebuying journey is the best thing you can do. Don't be afraid to ask questions at any step along the way. The Mortgage Team at Diamond can help you in the homebuying process.