March 27, 2017
There are three main threats to the data on your computer: malicious software, network intrusion by hackers, and physical theft.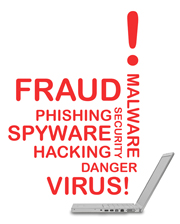 Use Protection Software
To protect your computer against viruses, spyware, worms, and Trojan Horse programs (which let hackers control your computer), you must use antivirus, anti-spyware and anti-malware software—and keep those applications up-to-date. To keep intruders out, connect to the Internet through a properly configured firewall, keep administrative names and passwords updated, set wireless networks to "no broadcast" and be sure to power down your computer when not in use. Never open an email spam or other emails from unknown sources and avoid using public computers for online banking, email account access, or other sensitive exchanges of information, as keystroke loggers, web "cookies," or cached pages may be capturing your data.
Limit Access
Limit access to your computer to those you truly trust, and use restrictive permission levels to protect sensitive files. Whenever possible, encrypt files containing sensitive information, including backup files. And don't forget to protect your computer against physical theft—"password protection" sounds daunting but is actually easy for a tech-savvy criminal to defeat.
Beware of Scams
Finally, beware of "phishing" and "pharming" scams, which use fake corporate email, redirected web addresses, and "cloned" corporate web pages to plant viruses and con users into providing sensitive information. Never provide identity or account information in response to an email or if you have doubts about a website's authenticity.
Diamond Credit Union has partnered with CyberScout to help educate, protect, and resolve fraudulent situations for their membership and immediate family members free of charge. If you think you may be a victim of identity theft, swift assistance is vitally important. Diamond provides services and information on Identity Theft Protection and publishes the latest information, tips and tricks on The Fraud Report.