May 11, 2015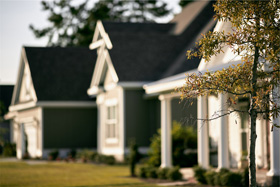 Spring is (finally!) in the air and that means For Sale signs could be popping up all over your dream neighborhood any day now. While finding the right home in the right location at the right price is just one challenge, navigating the steps to financing your home is another.
Am I pre-qualified or pre-approved? Is there a difference? What happens when my offer is approved? What's my next step? Whether you're in the market for a fixer-upper with good bones or a turn-key renovation that is completely move-in ready, follow these steps for qualifying for a home loan.
Get Pre-Qualified
A pre-qualification should be your first step in the homebuying process. It's best to be pre-qualified before you start house hunting because a pre-qualification can help you narrow down the price range of homes you look at. This will keep you from falling in love with a home that you have to over-stretch yourself to afford.
For a pre-qualification, be prepared to supply your lender (a credit union, bank, or private mortgage lender) with a very top-level financial picture, mainly information about your income, debt, and assets. There is no check into your credit history or ability to repay the loan at this time. A pre-qualification can usually be done online or over the phone.
The lender will then give you an estimate of the mortgage amount that you qualify for and they would feel comfortable lending you. A pre-qualification amount is not a number that is set in stone and there is no guarantee that you will be approved for a mortgage from this lender. It's simply a tool to get you started.
Get Pre-Approved
Once your new home search gets a little more serious, the next step in qualifying for a home loan is to get a pre-approval. This process is much more involved, as you will be completing a formal application (with application fee) and supplying the lender with documentation so they can perform a complete financial check, including your credit score which provides a glimpse into all outstanding debt and your history of repayment.
During the pre-approval process, the lender can provide a more accurate loan amount and even provide details on interest rates and terms, giving you a much clearer picture of what your total monthly payment will include. You'll receive your pre-approval in writing.
A pre-approval puts you in good standing with sellers as you begin to formally bid on houses. It shows that you're a step closer to obtaining a mortgage and the home sale can move along more quickly.
Get Final Approval
Once you find the home that is perfect for your family, and a purchase agreement has been signed, things can start to move pretty quickly in getting final financial approval. What are the final steps in qualifying for a home loan?
Your lender may ask that you provide updated financial documentation, especially if your pre-approval is months old. This determines that nothing drastic has changed in your finances. For this reason, it's important that you avoid the following during the period of time that you're house hunting or applying for a mortgage:
Do not apply for new lines of credit
Do not take on any additional debt
Do not switch jobs
Your lender will also do an appraisal of the home you are purchasing. A lender needs to determine the true value of the property since your new home is being used as collateral. If the appraisal comes in below your purchase price, you will only be allowed to borrow an amount up to the appraisal price.
With these three steps to qualifying for a home loan outlined for you, your toughest challenge will be deciding between that split-level with a new kitchen or craftsman with the beautiful views.
Photo credit: https://stocksnap.io/photo/5F7649370B