November 9, 2021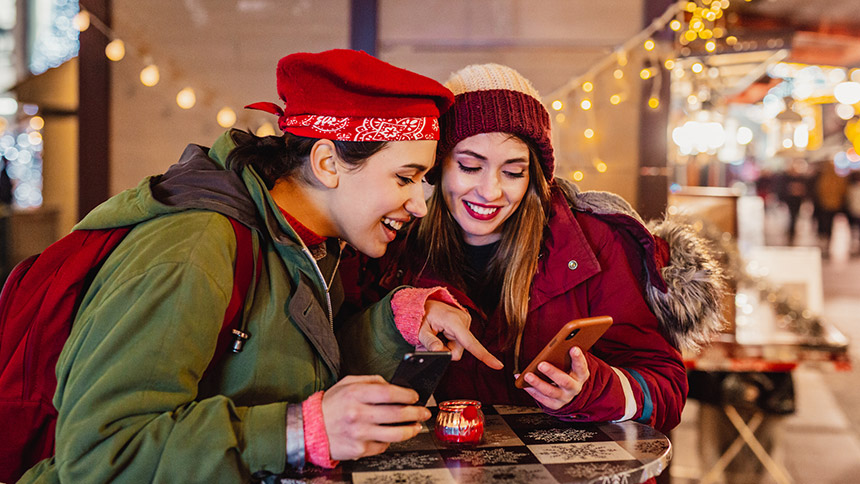 The holidays are almost here, and for many people that means shopping. That's expected to be especially true in 2021. Everyone has to be aware of the top shopping cybersecurity threats heading into this holiday season and the things people can do to stay safe.
Sales in November and December are expected to grow seven percent compared with a year ago and reach $800 billion. Holiday retail sales could also climb seven to nine percent, better than the nearly six percent increase tracked in 2020. A forecast by Mastercard SpendingPulse said holiday retail sales should rise seven-and-a-half percent from a year earlier and climb 11.1 percent on a two-year basis, fueled by a rebound in in-store shopping and persistent consumer demand.
Retailers are echoing similar expectations. Home Depot says it  sold out of an early release of Halloween decorations — an indicator that shoppers may also have a big appetite for Christmas decorations. Dick's Sporting Goods says it will hire the largest number of seasonal associates in its history for the 2021 holiday season. Walmart will employ 20,000 supply chain employees for the holiday season.
Unfortunately, criminals are standing by, ready to take advantage of consumers. There are many proactive steps you can take to better protect yourself from cyber thieves.
SHOP AT KNOWN RETAILERS
If you are already planning to shop online, only use retailers you know and reputable websites. One of the top cybersecurity threats is fake websites, which can lead to a cyberattack. Look for the HTTPS designation at the beginning of the URL that indicates a secure website. Be sure that you are not redirecting to a website that was made to look like the real thing. If you have received emails from companies that offer great deals, avoid clicking the links in the emails. Instead, go directly to the retailer's website yourself and search for the item you may want.
SHOP ONLINE, CHANGE YOUR PASSWORDS & USE TWO FACTOR AUTHENTICATION
A lot of people choose to skip the crowds and the chaos by shopping online. This year, some people might be more comfortable shopping online due to COVID-19 still affecting the globe. Supply chain complications could also lead to delays. To protect yourself from cyber thieves, you need to be prepared. If you establish new accounts to make your purchases, do it before the big shopping holidays like Cyber Monday. Use a strong and unique password on accounts set up with one-time passwords (OTP), and enable two-factor authentication if offered (use it with an authenticator app). To avoid some of the top cybersecurity threats, good cyber-hygiene habits are critical.
CONSIDER USING A CREDIT CARD & OTHER PAYMENT OPTIONS
Your credit card or other forms of digital payments, like digital wallets, may be more secure than your debit card because they often have better fraud protection. This is especially true if mysterious charges appear on your statement and you need to dispute those charges. Keep in mind that if you establish one credit card for all of your holiday shopping, it will be easier to reconcile any receipts and purchases later. It may even help you stay on budget.
HAVE GOOD COMPUTER SECURITY & CHECK YOUR DEVICES
Before starting the hunt and making purchases online, make sure your computer or the smart device you use is up-to-date and secure. For your computer, update your antivirus software and run a scan before starting your shopping. It will root out any harmful software that may be stealing your information.
If you purchase an internet-connected device or toy, the Cybersecurity & Infrastructure Security Agency (CISA) recommends you change the default password and check the device's privacy and security settings to ensure you are not sharing more information than you want.
BE CAUTIOUS WHEN USING WI-FI
If you are shopping at brick-and-mortar stores for the holidays, remember that public Wi-Fi can be problematic and is one of the top cybersecurity threats. Lots of retailers and restaurants offer free connectivity as an incentive to their customers. However, you cannot know who else is on the same connection. A hacker could steal your information. Save your sensitive internet activity for your home connection.
ENABLE ALERTS ON YOUR CARDS
If you have not already done so, contact your financial institution and enable alerts on your account. These alerts would let you know immediately if your credit card number was used without the card being present, such as online. While enabling this feature, you might inform your credit card company if you plan to travel over the holidays so that your card is not declined for security reasons at your destination.
CONTINUE TO MONITOR YOUR ACCOUNTS AFTER THE HOLIDAYS
Once the presents are shared and the decorations are put away, your work is not done. Monitor your accounts carefully for any signs of suspicious activity and take immediate action if you see any charges that should not be there.
CONTACT THE ITRC
Contact the Identity Theft Resource Center if you want to learn more about the top cybersecurity threats or believe you've fallen victim to identity theft. You can speak with an expert advisor toll-free by phone (888.400.5530) or via live-chat. Just visit www.idtheftcenter.org to get started.
Diamond Credit Union has partnered with CyberScout , a Sontiq brand, to offer comprehensive identity management services. If you detect suspicious activity or would like to proactively protect your identity, contact us at 610-326-5490 to be connected to a CyberScout fraud expert.