June 26, 2015
You had an idea, you wrote the business plan, and you secured the financing. It's safe to say…you are now officially a small business owner! Small businesses face many challenges in their first year, and in the years moving forward. Here are 5 challenges that many small business owners will need to tackle: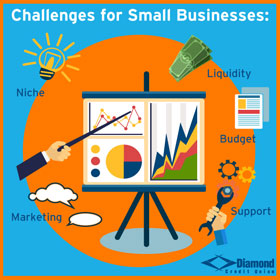 1. Liquidity – The ability to convert short-term assets (cash, short-term investments, accounts receivable and inventory) into cash to pay for short-term debts (monthly bills, accounts payable and monthly debt payments). An example of liquidity is using a line of credit to fund short-term cash needs until the collection of short-term assets is complete and the line can be repaid.
2. Budget – An annual process of estimating your small business's anticipated income and expenses, as well as month-end budget reviews that measure the actual income/expenses from the month versus the budget. This allows you to make adjustments to your budget for the following months.
3. Marketing – Marketing encompasses so much more than the traditional advertising you might be picturing. Today's marketing includes a social media presence, website and online search optimization, community involvement and public relations.
4. Support – Building a team of people around you and your business, including your employees, banker, lawyer, accountant, insurance agent, business mentors and IT/technology specialists.
5. Niche – Creating unique and distinct products or services with features and benefits that differentiate you from your competition.
Diamond Credit Union is proud to serve many small businesses throughout Berks County and the Tri-County Region and provide guidance and services to overcome the challenges of business ownership. From commercial loans and lines of credit to business checking and investments, our Business Services Division offers products, benefits and conveniences unmatched by other banking institutions.