November 21, 2016
The Diamond Credit Union Relay Team did! On Thursday, October 20, 2016, Diamond Credit Union held the second Annual Glow Golf Fundraiser at Golden Oaks Golf Club, in Fleetwood, Pa. Over 60 golfers came out for this great fundraiser which raised over $5,500 for the American Cancer Society Relay For Life.
What is Glow Golf?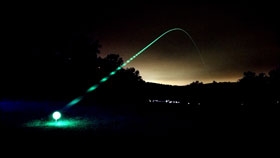 For this unique event, Golden Oaks outlined their breathtaking course with colorful lights to lead the way, but what makes the event so challenging and fun, is that it's still very hard to see. Golfers are given special golf balls that glow on impact, so they are essentially blind when initially hitting the ball. Hopefully the ball lands on the green and is close to the glowing flag, but if not, golfers set out in the dark to find it. It's the kind of event that keeps you guessing and laughing.
Working Together to Raise Money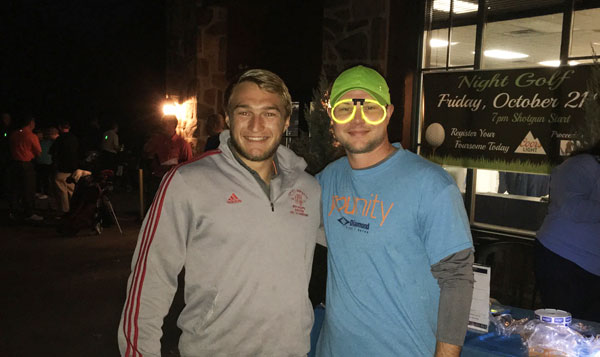 The fundraiser was organized by Diamond's Business Services Manager, Phil Fry and made possible by the support of Title Sponsor, Drumheller Construction Management LLC.
Fry had this to say about the event, "This is a really fun and unique event. I'm so thankful to all of our sponsors, volunteers, friends, and business partners who came out to support the event. Supporting the fight against cancer is very important to me and the whole Diamond team, so I'm glad that we can all have a great time on a beautiful golf course to make an impact for this important cause."
Kicking Off a Full Fundraising Season
This autumn event is a compliment to Diamond's Annual Charity Golf Invitational which takes place at Golden Oaks Golf Club each spring. Glow Golf is the second event to help kick off the Diamond's Hope 2017 fundraising season. Follow Diamond on Facebook and visit the Calendar of Events page on our website to stay up-to-date on the next big fundraiser.
Diamond's 2016 total donation of $90 thousand to the American Cancer Society Relay For Life was announced in September, adding to an eleven year total of over $736 thousand.
Good times and good company for a good cause…That's younity.