October 8, 2018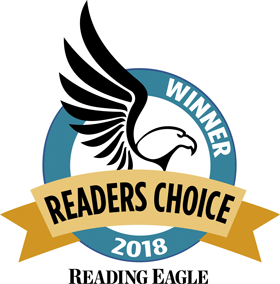 Diamond Credit Union topped three categories once again when the Reading Eagle newspaper announced its 2018 Reading Eagle Readers Choice award winners on Sunday, September 30.
2018 marks the fifth consecutive year Diamond that has been voted the Best Credit Union and the fourth consecutive year leading the Best Financial Planning and Best Bank categories as voted by readers of the Reading Eagle. This recognition event has been carried out by the Reading Eagle since 2014.
"We thank our members for making their feelings about the service they receive at Diamond public knowledge," said John Faust, President/CEO of Diamond Credit Union. "We recognize that they have many choices for their financial institution and this acknowledgement is truly special to our entire organization."
Unlike previous years, this year businesses needed to make it through 2 rounds before being named the top choice. The nomination phase gave the public an opportunity to nominate any entity in each category and took place from July 1-15. The top 5 nominations then made it to the next voting phase and took place from August 5-19. The winners from each category were then announced in the September 30th issue of the Reading Eagle.
Diamond Credit Union has experienced incredible growth over the past several years which reflects the desires by consumers in the region for a local, trusted, and strong financial institution for everyday financial management such as checking, savings, and loans, as well as long-term planning and specialized services such as mortgages and accounts for small business, which can all be found at this full-service credit union. Diamond currently has over 61,000 members and is excited to announce the opening this month of their sixth branch in Royersford. In order to continue serving the wants and needs of Berks County and the Tri-County Region, Diamond is on track to open their seventh branch in Muhlenberg township in 2019.