October 15, 2018
Diamond Credit Union is excited to announce the new Royersford branch is now open. Like all free-standing Diamond locations, the Royersford branch is available to all Diamond members and also welcomes new members.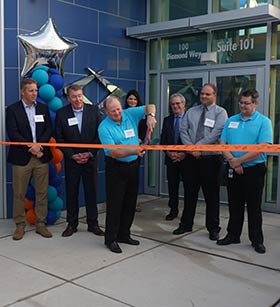 Easily accessible from the Trappe/Royersford exit of Route 422, the branch is located at 100 Diamond Way, just off Township Line Road. The Outback Steakhouse at 22 Anchor Parkway is next to the branch. This 4,200-square foot, state-of-the-art, full-service branch offers all the products, services, and personal attention that Diamond is known for.
Image: Pat Austin, Chairman of Diamond Credit Union's Board of Directors, shown cutting the ceremonial ribbon to open the new Royersford branch.
"Between the tremendous growth of this area, and the existing membership base that we already have here, this specific location really popped," said John Faust, President/CEO of Diamond Credit Union. "The great visuals and prominent location of this branch, paired with second-to-none service and delivery, will make for a tremendous experience for current and future members."
Diamond previously announced that Andrea Sawchuk Moyer will manage the new Royersford branch. Sawchuk Moyer excelled as the Pottstown branch manager since 2010 after beginning her career with Diamond in 2007 and is anxious to welcome new members from the Royersford community and beyond at the new branch.
Eligibility for membership at Diamond is open to anyone who lives, works, regularly conducts business, or attends school in Berks County, Pottstown, and parts of Montgomery and Chester counties.
Royersford Hours:
Monday:  9:00 am to 4:30 pm
Tuesday:  9:00 am to 4:30 pm
Wednesday:  9:00 am to 4:30 pm
Thursday:  9:00 am to 7:00 pm
Friday:   9:00 am to 7:00 pm
Saturday:  9:00 am to 1:00 pm
Sunday:  Closed
---