November 2, 2015
Thank YOU!
The 2015 Reading Eagle Readers Choice Awards were announced on Sunday, November 1st and Diamond came out on top in four separate categories. Thank you for your votes, your support, and for being members. Without you, there is no Diamond Credit Union. To all of our member-owners, congratulations on being a part of a Four-Award-Winning Credit Union!
Fun Fact: Diamond's President/CEO makes it a point to know every single employee's name.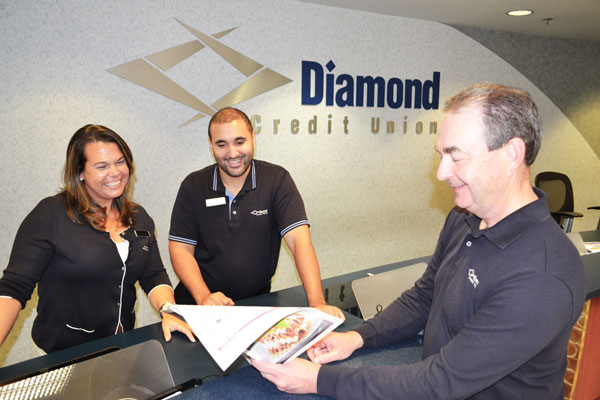 John Faust, President/CEO of Diamond CU shows Andrea Sawchuk, Branch Manager, and Shawn Thorpe, Membership Officer, the Reading Eagle Readers Choice announcement.
Best Credit Union
We've won this distinction for the two years that the Readers Choice competition has been held. It's a fantastic indication that we are doing things right as we continue to grow throughout our region. Every day is a new opportunity to wow our members, and we're glad that we're accomplishing just that.
Best Financial Planning
It's always been our goal to be a financial leader in this community inspiring financial achievement in every phase of life. We're here for our members from their first savings account, to their first car loan, through their mortgage needs, and into retirement. Thank you for recognizing our commitment to the success of every member.
Fun Fact: Currently all 5 of Diamond's Branch Managers and our Director of Retail Delivery are female. Diamond is running on some serious Girl Power!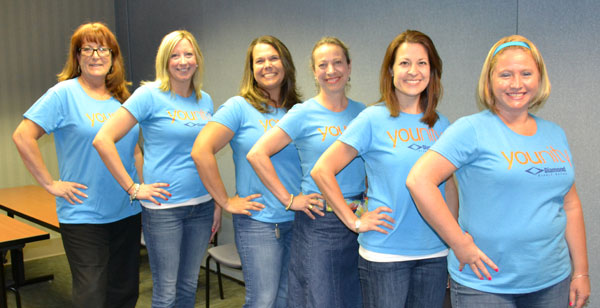 Pictured from left to right: Terri Page, Cori Garber, Andrea Sawchuk, Linda Rudolph, Chelsea Fry, and Erica Mutter.
Best Place to Work
Diamond's staff is made up of over 150 awesome individuals who come to work every day with smiles on their faces and the goal of helping people. Their ability to blend hard work with fun is the main reason why Diamond is the Best Place to Work.
Best Bank
Wow! Us? The Best Bank!? We're so thankful for this recognition and we see it as a true indication that people are recognizing that credit unions offer most (if not more) of the products and services they would find elsewhere. We are proud to be your local credit union, but it's fantastic that you consider us on equal ground with banks with very well-known names.
Fun Fact: Diamond's Wyomissing Branch has over 900 transactions on an average Friday.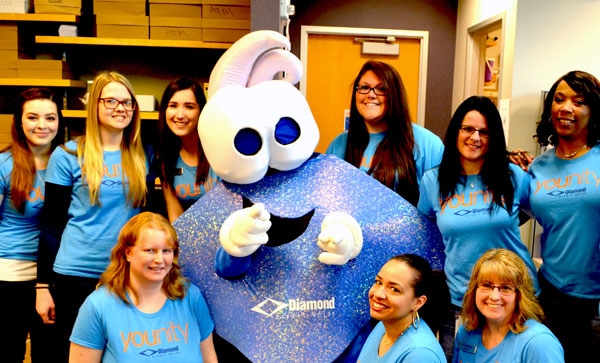 Diamond's Wyomissing Team poses with Diamond's mascot, Chip.
We wish there was a category for Best Members because we would certainly vote for our over 54,000 fantastic members who make Diamond the Best Credit Union in the region!
When local people come together to offer world-class financial service with small-town personal interaction…That's younity!