November 18, 2015

The Diamond Team is pleased to announce that for the 15th consecutive year, 100% of Diamond employees participated in their United Way pledge drive. Employees signed up to donate through weekly payroll deduction or a one-time payment.
Together, Diamond's 150 employees raised $27,537 which is a $2,500 increase from last year. Diamond's annual pledge drive benefits the United Way of Berks County and the United Way of Southeastern Pennsylvania. Employees are able to donate to the community impact fund or choose to send their donation to specific United Way organizations.
At a recent Diamond staff meeting, Jobany Bedoya, United Way of Berks County Community Relations/Campaign Manager said that the only other local organization to consistently have 100% employee participation in their pledge drive was the United Way itself.
The Diamond team kicked off their United Way pledge drive with a Soup Day, where employees volunteered to make various soups for coworkers to share and enjoy.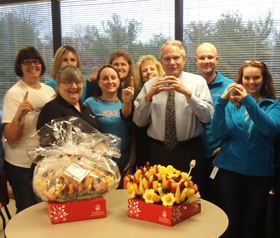 To celebrate the end of the campaign drive and the record donation, employees were permitted to wear jeans to work and were presented with edible arrangements for their departments to share.
In addition to this enthusiastic support of the United Way, the Diamond Team is setting sights on several other holiday-themed community activities: Salvation Army Food Drive at the Pottstown Branch, Donation Drive for the Greater Berks Food Bank at the Wyomissing Branch, Children's Home of Reading Angel Tree at the Wyomissing Branch, Festival of Trees for Boyertown Multi-Service, and of course our continued commitment to the American Cancer Society Relay For Life.
Joining together to make our community a better place…That's younity.