July 12, 2022
There have been many opportunities for Diamond Credit Union (DCU) employees and volunteers to help the community recently. Keep reading to see what local organizations DCU has lent a helping hand to in the last couple of months.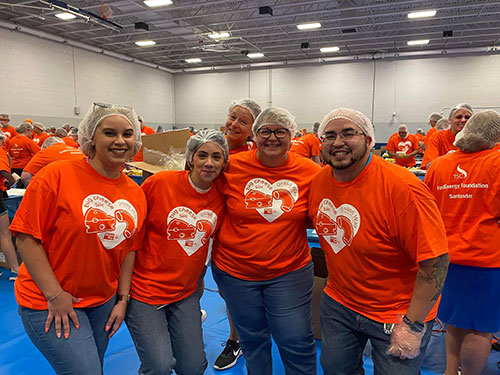 United Way: The Big Cheese
Photo (Left/Above): A portion of the Diamond Credit Union employees that volunteered at The Big Cheese on June 17.
On June 17, Diamond assisted the United Way with The Big Cheese event. This is a community volunteer activity where volunteers work together to pack meals for local families in need.
Over 500 people came together to pack meals. They were then distributed to food pantries in Berks County and the Weekender Backpack program. The Reading School District also received a portion of the meals to distribute to children throughout the school year.
Royersford Food Drive for Project Outreach
For the month of June, Diamond's Royersford branch collected food to benefit Spring-Ford Project Outreach.
Project Outreach provides emergency assistance services and programs for those in need in the Spring-Ford area. The Royersford branch has worked with Project Outreach in the past to provide meals to families in need.
Muhlenberg Jingle in July for KidsPeace Foster Care of Reading
Throughout June and July, Diamond's Muhlenberg branch collected toys for KidsPeace Foster Care of Reading.
KidsPeace Foster Care of Reading provides foster care services in the Reading/Pottsville area. The organization also provides services to help families with counseling, decision making and rehabilitation.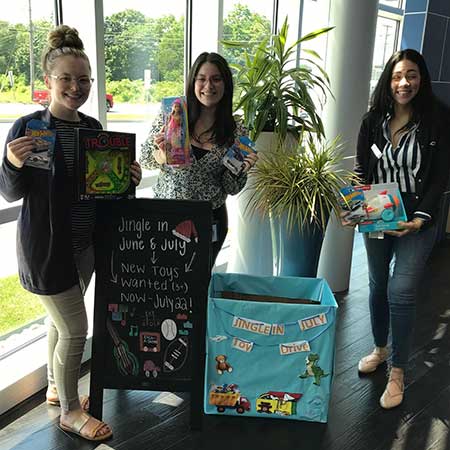 Photo (Right/Above): Muhlenberg branch employees showed off some of the toys they had collected so far for KidsPeace.
Exeter Branch Visited Daniel Boone High School to Teach Financial Literacy
In June, Exeter Assistant Branch Manager, Kaylee A. and Wyomissing branch Membership Officer, Lizbeth V. visited Daniel Boone High School.
They were able to teach students about managing their money and how to better prepare financially for the future.
Reading Hospital Mobile Mammography Program Kick Off
In 2021, Diamond Credit Union provided the Reading Hospital with a Leadership Gift Donation to support their efforts in funding the Mobile Mammography Program.
The goal of the new program is to provide easier access to breast cancer screenings and bring awareness to early detection for those in need in the community. Beginning in September, the Mammography Coach will be visiting Diamond Credit Union branches and providing services.
Photo (Below): Diamond Credit Union President/CEO, Rick Patel, in front of the Mobile Mammography Coach.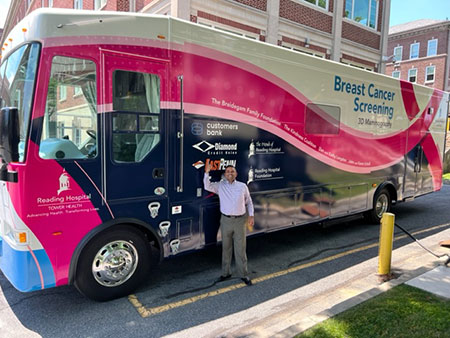 Daniel Boone Relay For Life
Diamond volunteers participated in Daniel Boone's Relay For Life on May 21. Diamond's Hope walked to show their support in the fight to end cancer.
Designer Purse Lottery
The month of June brought back Diamond's Designer Purse Lottery. When the evening Pennsylvania Lottery Pick 3 announced the winning numbers, those with the corresponding numbers won a designer purse. Some participants were able to win purses while supporting Relay For Life.
Thank You
Diamond thanks everyone that supports and volunteers their time to help these local organizations. Your support helps Diamond positively impact the community.
Supporting our community to help change lives…That's Younity.