March 13, 2023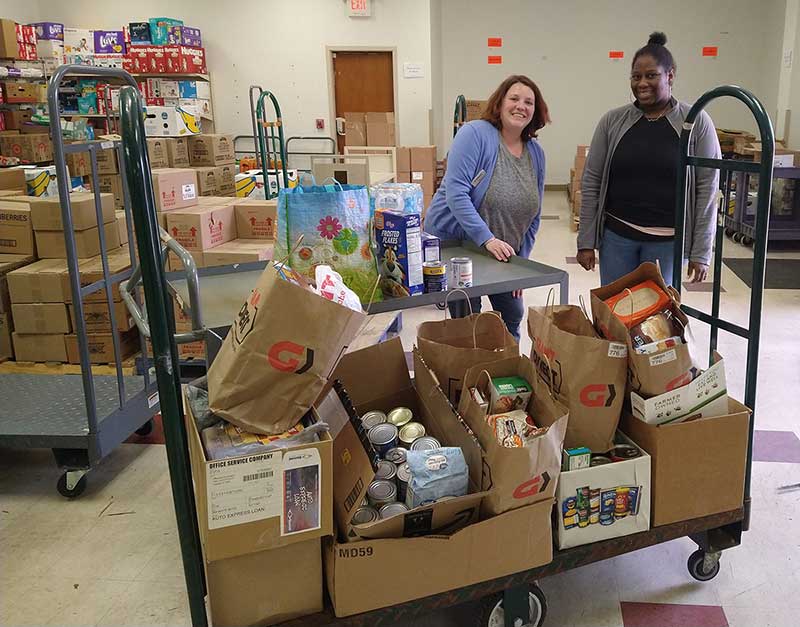 Photo: Diamond Credit Union Membership Officer, Tiffany Adamowicz, delivered the food the Pottstown branch collected to The Pottstown Cluster of Religious Communities. The food collected will help serve the Greater Pottstown Area.
Diamond Credit Union employees worked together with the community to hold several collection drives for local organizations. Diamond team members were also able to be part of events that supported nonprofits and local students.
Food Collection Drive for Pottstown Cluster of Religious Communities
Diamond Credit Union's Pottstown branch collected food throughout January to benefit The Pottstown Cluster of Religious Communities (PCRC). This organization works to help the Greater Pottstown Area by offering assistance, guidance and self-sufficiency programs.
The PCRC is the only redistribution center in Montgomery County, meaning they collect food and then distribute it to several local food pantries across the County.
Piece Per Person Food Challenge for Helping Harvest
The Tower Health branch also had a chance to collect food for a local organization. Employees contributed to a food drive held by Reading Hospital-Tower Health to benefit Helping Harvest.
Helping Harvest collects, purchases, and distributes over nine million pounds of food annually to over 320 programs that feed the hungry in Berks and Schuylkill Counties. Workers at the hospital, including Diamond employees, collected a total of 42,299 items.
Their collection will provide children in need from Reading School Districts enough food to take home every weekend for one month.
Sock Collection Drive for Reading Hospital-Tower Health's A4 Podiatry Clinic
In addition to the food drive, the Tower Health branch is also collecting new pairs of socks for the A4-Podiatry Clinic. This is the third-year branch employees have collected socks and they have currently donated close to 2,000 pairs so far.
The A4 unit cares for many community members that are underserved and uninsured. Employees will be accepting donations for the sock drive until the end of March.
Easter Basket Drive for Pottstown ManorCare Residents
For the month of March, the Pottstown team is collecting items for Pottstown ManorCare residents. The Pottstown team is working to supply residents with Easter baskets and raise funds to purchase items for the baskets. Pottstown ManorCare is a nursing and rehabilitation center. The Pottstown branch will be accepting donations for baskets until the end of March.
Diamond Sponsors Local Organizations
Throughout the year the Diamond team participates and supports events held by the TriCounty Area Chamber of Commerce. Recently Diamond sponsored the Boyertown Progress Dinner and the Foundation for Pottstown Education's Annual Celebration of Arts.
The Boyertown Progress Dinner supports and spotlights local nonprofits. The Annual Celebration of Arts raises money to help fund programs, scholarships and equipment for students in the Pottstown School District.
Thank You for Supporting Community Organizations
"We are always so grateful for the support of the communities that surround Diamond Credit Union," President and CEO Rick Patel said. "Without your support we wouldn't be able to help nearly as many deserving organizations."
Providing opportunities and supporting our communities…That's Younity.