November 22, 2019
Diamond Credit Union ranked 14th among mid-sized companies in the 2019 Best Places to Work in PA awards. This is the fourth consecutive year Diamond has won a spot on the list.
Rankings for Best Places to Work in PA are determined via survey by Best Companies Group and published in the Central Pennsylvania Business Journal. The rankings were announced on November 21 at a state-wide awards ceremony held at the Lancaster County Convention Center in downtown Lancaster.
"This award is the result of 180-plus people who have resolved to maximize their potential professionally and personally," said John Faust, President/CEO of Diamond Credit Union. "Through their actions, in service of others, our entire staff brings younity to life."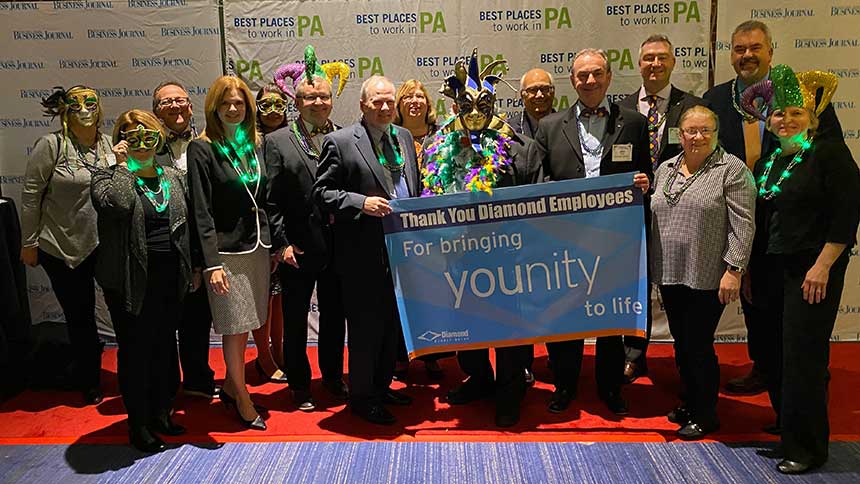 Members of Diamond's Board of Directors, and management team, recognize all Diamond employees as they get into the spirit of the Mardi Gras theme at the 2019 Best Places to Work in PA awards.
The convention center on Lancaster's Queen Street was transformed into Bourbon Street as Mardi Gras was the theme of the 2019 Best Places to Work in PA awards. Diamond Credit Union stacks up quite nicely to the vibrant, crowd-pleasing way-of-life in the French Quarter. Here's why:
A parade of happy people
If Diamond threw a Mardi Gras-like parade, there would be a lot of happy people marching. Winning 2019 Best Places to Work in PA signifies that Diamond has happy employees. Happy employees equal happy customers. The numbers back it up. In surveys conducted in 2019, 99.6% of Diamond members said they would use the credit union again; and 89.1%, and counting, have recommended Diamond to friends and family.
There for friends and neighbors
When the unfathomable storm rocked New Orleans, people were there for each other. Likewise, Diamond employees rally for the communities they serve. In 2019 every employee put time into community service. Some of the many causes they supported were the American Cancer Society, United Way, and Miller Keystone Blood Center. Employees have indicated that the opportunities to grow personally, through community service, are meaningful.

Above/Right: One of Diamond's 10 core values is to blend hard work with fun. Jim Daly, VP/Chief Information Officer, demonstrates that value as he accepts the 2019 Best Places to Work in PA award in full Mardi Gras regalia.
Masquerade ball anyone?
Diamond employees frequently enjoy the chance to step out of their business casual attire and into something festive. Whether its jeans on Fridays, sports themed days, ugly sweaters during the holidays, costumes on Halloween and more, employees love the chance to have fun and be creative. Some dress-down days go beyond fun and support charity through fundraising and awareness.
Eye-catching architecture
Diamond branches are beautiful places to work. While the architecture is contemporary looking vs. the French-colonial style of New Orleans, they both go a long way in creating an outstanding atmosphere.
Celebrating with food
Creole and Cajun cooking are at the heart of many New Orleans celebrations. Celebrating a job well done with food is also a tradition at Diamond. Food days that feature tacos, pizzas baked on site, firing up the grill, ice cream, Italian ice, coffee bar, and more are always a hit. Monthly treats to celebrate all birthdays, and healthy options that promote the employee wellness program are also big. Employees bond when they share their best family recipes at potlucks during the year.
Culture and tradition
Many New Orleans traditions started small and grew through the years. This mirrors the careers of many Diamond teammates.
Diamond challenges employees to maximize their potential and supports them with every opportunity to do so. A comprehensive training program plus ongoing educational opportunities provide the foundation employees need to contribute immediately and take their career to the next level.
All the fun and community-minded perks that create this award-winning culture are built on a foundation of generous medical, dental, vision, and prescription plans; excellent vacation and holiday time; a great 401(k); and more. This makes Diamond one of the 2019 Best Places to Work in PA.
What a wonderful world … That's younity!