December 15, 2016
This year marks the 20th anniversary of Diamond Credit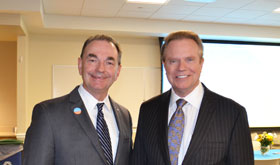 Union's partnership with the Tower Health Reading Hospital (formerly Reading Health System RHS). Diamond members enjoyed the festivities at the Diamond branch located inside the G1 building of The Reading Hospital with giveaways and special events throughout the year to commemorate the milestone. In November, a formal luncheon with the executive team of the Reading Health System was held to discuss the benefits and mutual growth accomplished through the 20-year partnership.
A brief history of the 20-Year Partnership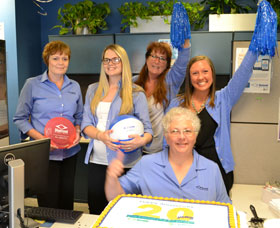 The Reading Health System joined Diamond as a Select Employer Group in 1996 and together they have been offering the employees of the RHS special benefits and services. RHS employees have access to their very own Diamond branch located within the hospital and they enjoy the benefit of getting paid a day early when they have their paycheck directly deposited into their Diamond account. There are also five Diamond no-surcharge ATMs located throughout the various locations of the RHS which are available to employees, patients, and visitors, regardless of Diamond membership status.
Making Berks a Better Place
Diamond is also a proud supporter of the Friends of the Reading Hospital, a volunteer organization that helps to increase the quality of patient care and access to important medical equipment throughout Berks County.
Building relationships that make our community better…That's younity.