HOME BREW 2020 IS HERE!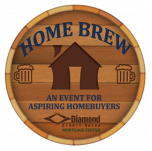 Monday, March 23 – HOME BREW for Aspiring Home Buyers
Stop in between 6:00-8:00 pm – The Works, 1109 Bern Road, Wyomissing, PA
REGISTER FOR THIS MARCH 23rd EVENT
Space is limited. Registration open thru March 19th.

For aspiring homebuyers who want a partner in the homebuying process. Join Diamond Mortgage experts and real estate professionals to casually chat about topics homebuyers most often seek understanding about, while enjoying complimentary drinks and food. This no-cost, no-obligation event is open to all people age 21 and over, who are looking for answers to their homebuying questions. Diamond membership not required.
Making the right mortgage decision is easy with Diamond!
For anyone dreaming of buying a home, who wants a partner in the homebuying process who will educate you, and be by your side every step of the way, the Diamond Credit Union Mortgage Center will help you get ready for when the time is right. No matter where you are in the process, if you're ready today or want to be ready down the road, our team is here to help you feel comfortable and confident. We're in this together, that's younity.
Diamond offers competitive rates, lower fees, and a variety of loan types including fixed- and adjustable-rate, 3% down payment, FHA, VA, and USDA.