Loan and credit options for small businesses
Commercial Loans
Commercial Lending with flexible terms and competitive rates, including small business loans, commercial real estate financing, and business lines of credit and business credit cards. We are dedicated to serving the small businesses in our local community.
Decisions made locally
Flexible loan terms
Competitive interest rates
Prompt and efficient customer service
Commercial Real Estate Loans
For Non-Real Estate Loan/Line of Credit requests Under $100,000:
Apply for a variety of small business loans and lines of credit.
Business Mastercards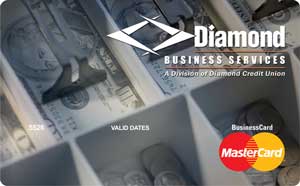 Business Mastercards allow you the flexibility to operate your business as you need, when you need.
Mastercard® with Rewards also available.
No annual fees, low monthly payments.
Consolidated billing.
Zero-liability protection.
Emergency card replacement.
ATM access up to $2,500.
Account access through NetBranch.
0% APR* Special Introductory Offer on PURCHASES and BALANCE TRANSFERS**
For the first 6 months from the time the card is opened. Plus, no balance transfer fees during the first 6 months. And, receive 10,000 REWARD POINTS after the first purchase or balance transfer.
*Offer good on new Diamond Credit Union Business MasterCard applications. The promotional rate is valid for 6 months from the time the card is opened. After 6 months, the Annual Percentage Rate (APR) will be applied to the full remaining balance at the regular qualifying rate and monthly periodic rate as specified in the cardholder agreement. The regular rate is a variable rate based on the value of an index and may vary according to underwriting criteria. The index is the highest Prime Rate published in The Wall Street Journal on the last business day of the month and can be changed monthly. The maximum rate that can be charged is 18%. Certain conditions and restrictions may apply. **Balance transfers must be from a Business/Commercial card (no internal transfers).
Larger Commercial Loans
Lending decisions on commercial real estate financing and business loans over $100,000 are also made locally. We want to hear from you about your bigger dreams and projects and how Diamond can help.