November 28, 2017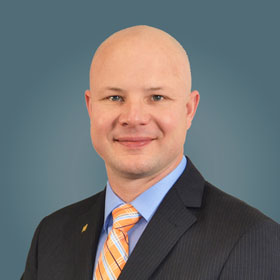 Diamond Credit Union is proud to announce that Phil Fry, Manager of the Business Services Division at Diamond Credit Union, has received the CUES Certificate of Business Lending. CUES is an international membership association focused 100% on credit union talent development. Successful completion of this program at the CUES School of Business Lending, is a difficult feat and tremendous achievement as it signifies both a commitment to and command of superior lending skills.
Phil has been with Diamond Credit Union since 2007, holding several positions before moving to the Business Services Division in 2014 where he served as Loan Officer for almost 3 years before being promoted to manager of the division in October 2016. In addition to receiving the CUES Certificate of Business Lending, Phil has been a member of the Credit Union Executive Society at the CUES School of Business Lending, furthering his education in Credit Administration, Business Lending Fundamentals, Financial Analysis & Diagnostic Assessment, Strategic Business Lending, and Commercial Real Estate Lending.
"The CUES Certification that Phil has received is such a prestigious and exclusive achievement. For the community we serve, this means that Phil has the foundation, knowledge, and proficiency to help business owners in our area in ways that no other local financial institution can match. This combination of business lending expertise and credit union fundamentals means great opportunities for the success of the small business sector in our area," beamed John Faust, President/CEO of Diamond Credit Union. "We are so proud of Phil and his accomplishment," John added.
When Phil is not in the office or meeting with businesses in the region, he can be found watching sports, playing golf, running, or spending time with his wife and son. Phil has played key roles in the fundraising efforts at Diamond, chairing events such as the Annual Golf Invitational, the Dance & Chance/Beef & Beer event, or by simply washing cars in support of the hurricane relief efforts.
Bringing opportunity and expertise to businesses in our community…That's younity.