December 10, 2020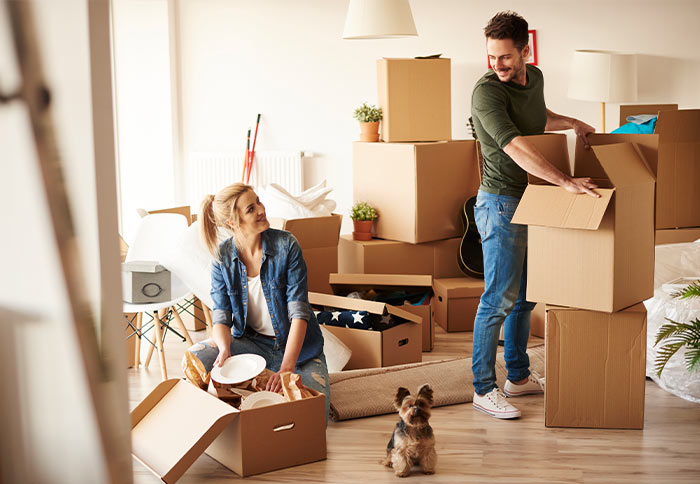 Piggyback mortgages are a popular option for many homebuyers since they allow you to make a larger down payment and avoid primary mortgage insurance. However, like any loan, there are a variety of pros and cons to take into account before signing on the dotted line. Let's take a closer look at the positives and negatives of piggyback home loans to help you determine whether they're right for you.
What is a Piggyback Home Loan?
Also known as 80/10/10 loans or combination loans, piggyback mortgages are borrowed at the same time as your first mortgage. They typically take the form of a home equity loan or a home equity line of credit (HELOC) and are popular with consumers who purchase a new home before their current one has sold.
Piggyback loans are typically available up to 90% loan-to-value (LTV) on your home's purchase price. With an 80/10/10 loan, 80% is your first mortgage (typically a 30-year fixed-rate mortgage), 10% is your piggyback loan, and the remaining 10% is your down payment.
Lenders may also approve 80/15/5, 80/5/15, and 75/15/10 piggyback loans, which are popular with condo buyers. In any case, the first number refers to the main mortgage, the second to the piggyback loan, and the third to the down payment.
If you're interested in a piggyback mortgage, your primary lender can provide recommendations for second mortgage lenders. Some lenders have also created their own piggyback loan programs.
Home Equity Loans
We'll start by reviewing the pros and cons of home equity loans, which allow you to borrow against the equity you already have in your home at a fixed interest rate. Your loan amount is calculated based on the difference between your home's current market value and what you owe on your mortgage.
You'll receive a lump sum payment upfront for the equity value of your home and pay it back on a monthly basis. Home equity loans are often used for home improvements, debt consolidation, college tuition, or emergencies.
Home Equity Lines of Credit (HELOCs)
Home equity lines of credit (HELOCs) are a revolving source of funds — like a credit card — that can be accessed whenever you need money. There's no interest charged on untapped funds, and you can pay your HELOC balance down in full and leave it open for future use. Your credit limit is based on the equity you have in your home, and your draw period is typically 10 years. At that point, you'll have a repayment period of anywhere from 15-20 years.
Unlike home equity loans, HELOCs have variable interest rates that are usually higher than 30-year mortgages. However, some lenders may offer fixed interest rates for a certain length of time. HELOCs are popular with consumers who purchase a new home before selling their old one, as they can use the proceeds of their home sale to pay their HELOC down in full.
Pros of Piggyback Loans
There are many positives associated with second mortgage loans, and they can be very beneficial depending on your situation. We'll take a closer look at these pros below.
You Might Avoid Paying PMI
With traditional mortgages, you're typically required to pay private mortgage insurance (PMI) of 0.5-2% of the home's value when you put less than 20% down. With an 80/10/10 loan, you're essentially making a 20% down payment, allowing you to avoid PMI. Because you're not paying PMI, your monthly payment will be significantly lower. Plus, you'll save money in the long run if you can pay off your piggyback loan relatively quickly.
You May Get Better Jumbo Loan Terms
A jumbo loan is a mortgage that exceeds the lending limits set by Fannie Mae and Freddie Mac. Lenders are unable to sell jumbo loans to federally-backed mortgage companies, so they typically come with more stringent approval requirements. These can include higher credit scores, lower debt-to-income ratios, and larger down payments.
If your first loan is a jumbo loan, a piggyback home loan can reduce the amount of your first mortgage to just below the conforming mortgage limit. In turn, this can make it easier for you to get your jumbo loan. Additionally, a piggyback mortgage could help you secure a lower interest rate on your first loan, allowing you to pay off your second loan more quickly and save money on interest.
Cons of Piggyback Loans
While piggyback loans have their positives, having two mortgages not be right for you. Here are a few reasons why you might want to avoid piggyback loans.
You'll Pay Higher, Variable Interest Rates
Many 80/10/10 loans come with higher, variable interest rates, unlike most traditional mortgages. If there's a significant difference between the interest rates of your first and second mortgages, you may spend more to pay off your piggyback loan in the long run. And if you have a poor credit score, you'll probably end up with a higher interest rate on the piggyback loan.
You Might End Up Paying More Than You Would in PMI
While you may be tempted to apply for a piggyback loan to avoid paying PMI, this isn't always the right choice. PMI typically goes away once you reach 20% equity in your home, but you'll make payments on your piggyback loan until it's paid off. If you can't pay it off relatively quickly, you may end up spending more than you would have on PMI.
Refinancing Is More Complicated
Refinancing your first mortgage might allow you to pay off your piggyback home loan by combining them into one. This means lower interest rates and less money paid towards interest overall. However, refinancing is much more complicated when you have a piggyback mortgage.
You'll need to have enough equity to pay off the balance of your second mortgage loan when you refinance. Alternately, you can refinance only your primary mortgage without touching the piggyback loan. You can refinance up to 95% of your home's value when refinancing a purchase money second lien. Keep in mind that refinancing also requires the consent of your piggyback lender.
You'll Pay Closing Costs on Both Loans
Because they're two separate transactions, you'll have to pay closing costs on your primary and piggyback loans. This can add up to thousands of dollars, depending on the fees and associated costs.
Ready to apply for a piggyback home loan? Want more information about all of your home financing options? Our Home & Mortgage Center is the perfect place to get started. Learn more and connect with our team of experts today.