August 20, 2020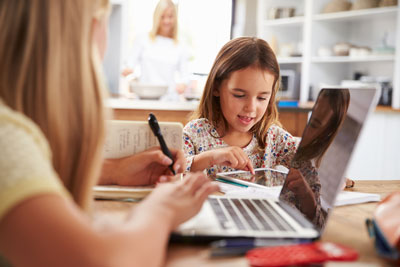 With many adults, students, and children being faced with working and studying from home, it's important to think about the security of your home network to protect from a cyberattack. Home networks refer to the devices which are accessible to the internet, such as routers, computers, smartphones, smart TVs, and Wi-Fi-enabled devices such as baby monitors and cameras. Keep these tips in mind to help secure your home network.
Secure Your Router: If you're still using your router's manufacturer default password, it's past time for a change. Your password should include letters, numbers, and special characters in a combination you haven't used on other accounts. You can also create an extra firewall by configuring your router to block unwanted incoming internet traffic.
Secure Your Webcam: If you're using an external webcam for videoconferences, disconnect it when you're not using it. Be sure to change the default manufacturer password, and update software with the latest patches. For built-in laptop webcams, cover the camera and microphone when not in use, and be circumspect when an application requests access.
Beware of Phishing Links: Phishing scams are on the rise. Don't click on any links or open attachments unless you're 100% certain the sender is who they claim to be. Confirm requests for data or personal information with a quick phone call to protect against spear phishing.
Update Account Passwords: Don't reuse passwords from other accounts. Double-check with services such as HaveIBeenPwned.com to see if any of your existing accounts have been part of a data breach.
Place Controls on Children's Internet Activity: Keep your children off of your work computer and be sure to require administrator passwords that they can't guess to install new software and apps.
Diamond Credit Union encourages members to stay up-to-date and vigilant in protection from cyber criminals.
LEARN MORE ABOUT CYBERSCOUT AT DIAMOND
Article used with permission of CyberScout.