June 13, 2019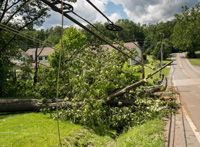 The hurricane is over, but unimaginable damage can be left in the wake of natural disasters. You see haunting images on television and want to help the victims. Suddenly, the phone rings and "someone" from a well-recognized charity asks if you would donate to hurricane relief. Later, you find out that you gave your money — and your identity — to a fake charity worker.
Does this kind of fraud sound too evil to believe? It happens after large natural disasters. After Hurricane Katrina, two men — fraudulently posing as Salvation Army workers — talked personal information out of 2,500 police officers, sheriff's deputies, firefighters and FBI agents.(1) If trained law enforcement professionals were easily conned by identity thieves, couldn't you and your family be at risk?
When Disaster Strikes, So Do Identity Thieves
According to FEMA, after catastrophic events such hurricanes and wildfires, con artists and identity thieves flood into areas to take advantage of victims. They report that fraud after natural disasters has surged over the past several years.(2) Identity theft is the UN-natural disaster that follows the natural disaster.
After the storm, flood, or fire, shocked and confused victims may be staying in shelters or relatives' homes. They're trying to get their families from one day to the next, and identity theft is likely the last thing on their minds. In high-stress situations like natural disasters, your defenses may be lower. Add to that the fact that the contents of your home may be blowing around the neighborhood, and you've got a recipe for identity theft and fraud.
How Identity Theft and Fraud Occurs in Natural Disasters
There are many schemes and cons for obtaining victims' personal information in the wake of catastrophes. Keep your eyes open for these most common scenarios:
Theft of personal documents: Sometimes identity thieves luck into your information because it has literally scattered on the wind. In other disasters, looters may break into evacuated buildings looking for personal information and other valuables.
Fraudulent charitable solicitations: Phone calls, fake emails or in-person visits from people claiming to work for a reputable charity can collect your personal information and steal your identity. Don't contribute to charities over the phone. Instead look up an individual charity through web search or by starting at CharityNavigator.org.
Impersonating a government official: In the wake of a disaster, federal, state and local government respond to help people. Depending on conditions on the ground, some may wear non-official clothing, but they will be able to show an appropriate government badge or ID. Don't fall for a fraudster claiming to be a first responder or disaster specialist. Verify before providing personal information.
Fake contractors: In disaster-hit areas, contractor crews often show up on your property offering to help replace your damaged roof, cut and clear downed trees, and repair other damage. But some are unscrupulous or even fraudsters. The National Insurance Crime Bureau (NICB) recommends nine tips to make sure a contractor is on the level, including asking your property insurer to recommend a licensed, insured contractor.(3)
Insurance fraud: When identity thieves know every house in your area is probably damaged, they may try to change your address with your insurance company. Then the checks from any claims you file get delivered to their mailbox instead. Another insurance trick is impersonating the insurance claims adjuster at your property.
Plan Ahead to Preserve Important Documents
In the wake of a disaster that destroys your home, important family files, documents and keepsakes are lost. You will need to replace them quickly with copies stored elsewhere. You also need to be prepared for the fact that some of these documents could fall into the wrong hands, putting your personal information at risk.
Keep important family documents and files from your personal computers backed up in the Cloud, using a secure storage service. This might include past tax returns, insurance policies, bank statements, legal documents, and more. Be sure to back up family photos, too.
You may also want to save all of those items on a USB drive and keep it in your bank safety deposit box or with a trusted relative who lives in another location. Make photocopies of the front and back of each family ID (driver's licenses, passports) and put them in the safe deposit box. You might also want to put a copy in your grab-and-go bag or box that you will take if you need to evacuate your home.
Diamond Credit Union has partnered with CyberScout to offer comprehensive identity management services. Members who detect suspicious activity or would like to proactively protect their identity, can contact us to be connected to a CyberScout fraud expert.
(1)"Natural catastrophe and disaster fraud," Fraud Magazine, December 2006.
(2)"Beware: Disaster Survivors Can be Victims of Fraud and Identity Theft," FEMA, August 2018.
(3)NICB, "Natural Disasters: Fertile Ground for Fraudsters."