November 13, 2019
The world needs a lot more kindness and a lot less cynicism.
But the rising rate of fraud and scams make it difficult for good people to trust others and extend their generosity and kindness. It's an unfortunate fact that scammers often prey on people who are kind. Here are five tips to help you spot a scam.
Be aware of spoofing. Fraudsters work hard to make their scams look and sound legitimate. They can make phishing emails appear to come from your friends, family or coworkers. They can make a phone call look like it is from a local area code or from a company you know. Look closely at email addresses for any misspellings or minor variations. If you receive a phone call soliciting financial information or assistance, tell the person or business you will call them right back—then look up the phone number yourself.
Only pay by check or credit card. Scammers always want to be paid in cash or cash equivalents, so it is easier for them to pocket the funds. Pay by check or credit card which can be tracked and cancelled if necessary. Refuse anyone who requests your payment in cash, gift cards or wire transfers.
Check out charities. Scammers will use fake charity names that sound realistic, but with a little research, you can identify the truth. Visit Guidestar or CharityNavigator online and type in the name of the charity. If it isn't a real charity, do not donate.
Ask for specifics and don't be rushed. Successful scammers usually follow a similar pattern— they are vague with details and present their request with time-sensitive urgency. Ask for specific information. Demand terms in writing ahead of making any donation, loan or other transaction. If someone demands money immediately—especially if they will only accept cash, check or a wire transfer—turn them down.
Be suspicious. If you find yourself in doubt, traditional wisdom offers two axioms that stand the test of time: 'If it sounds too good to be true, it's a lie,' and 'You don't get something for nothing.' Have you been promised sweepstakes winnings in exchange for a charitable donation? That's surely a scam. It's too good to be true and, in this case, also illegal. Is someone offering you thousands in a week if you will just wire them a few hundred today? Remember the something-for-nothing rule and decline.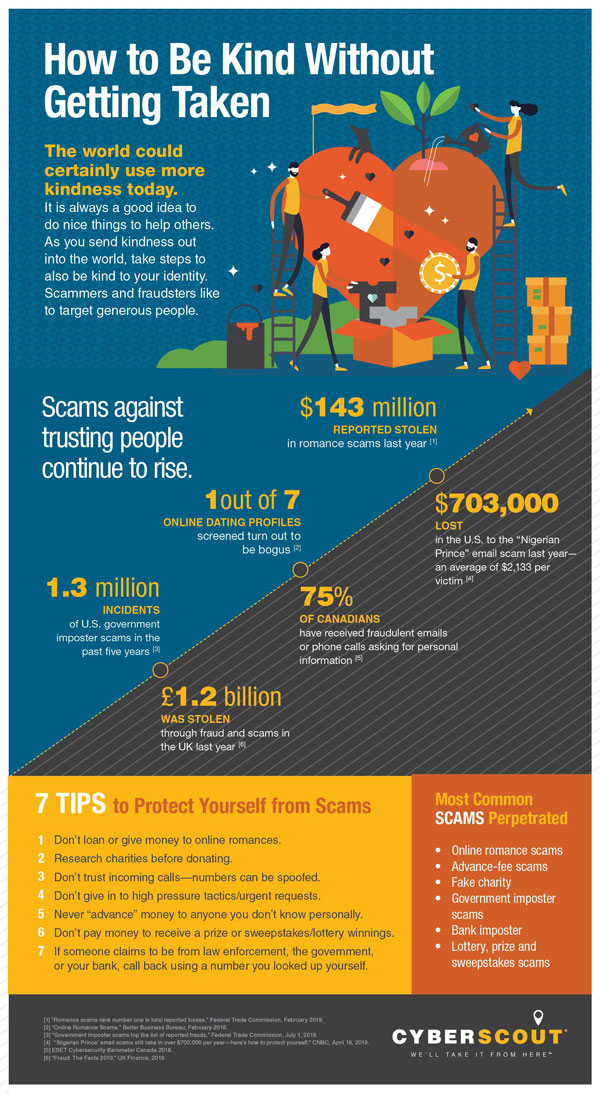 Today, Wednesday, November 13th is World Kindness Day. Keep this is mind as you go throughout your day – and every day – and seek out ways to make a difference. You never know the impact a kind word or gesture can make in someone's life.