June 17, 2021
Our organization is built on the foundation of helping others. Whether that is helping our members meet their financial goals or helping our communities. We've recently had the opportunity to help several charitable organizations, and our hearts are full.
Diamond Among United Way of Berks' Top 100 Companies
Our community members needed help more than ever as we lived through the Covid-19 pandemic. Diamond continued to support United Way of Berks County to help those in need. We were recognized for our community involvement as we made the Top 100 Companies for 2020 that support United Way of Berks County. The companies that made the list donated a combined 8.3 million dollars. Every Diamond employee supported the campaign and that marked 20 consecutive years of 100% staff participation.
K's for Commyounity
Opening Day for the Fightin Phils meant more than the start of a new season. For us, it meant the opportunity to help local organizations near and dear to our community. For every opponent the R-Phils strikeout at each home game this season, Diamond will donate 10 dollars to a local charity. Charities that have felt the love so far are: Baseballtown Charities, The Ricketts Center and Big Brothers Big Sisters of Berks County. There are more to come.
Baseballtown Charities is an organization founded to keep baseball alive for Reading's youth. The Rickett Center focuses on after school athletic, educational, recreational and wellness programs for Pottstown's youth. Big Brothers Big Sisters of Berks County helps build relationships with at-risk youth to strengthen self-worth, develop character and improve the relationships of children between eight and 19 years old.
Diamond has donated $1,920 to these causes thus far.
Big Brothers Big Sisters Bowl For Kids' Sake Community Event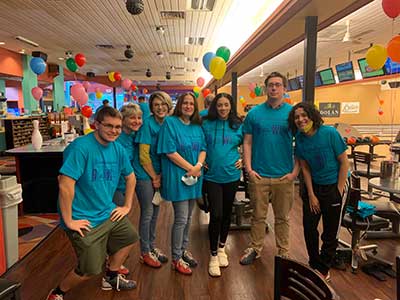 Photo: One of our four teams that participated in the community event Bowl For Kids on June 14, 2021.
Between June 12th-15th, Diamond employees banded together to have fun while supporting Berks County youth. Bowl For Kids' Sake is an annual event where about half a million people across America come together to have fun and raise money to support Big Brothers Big Sisters. We had four fundraising teams that bowled for the kids.
Designer Purse Lottery
Instead of our annual Designer Purse Bingo, we decided to switch it up this year with a Designer Purse Lottery. Participants still had the opportunity to win a designer bag, and we were still able to donate to Relay for Life. We sold 343 tickets to support the organization. Thank you to everyone that donated.
New Hanover Fire & Rescue's Summer Safety Community Event
We love having the chance to catch some sun rays and we love providing opportunities to help community members. New Hanover Volunteer Fire and Rescue gave us the chance to help them do both. At the fire company's first Summer Safety Event held in May, community members were taught about the best summer safety practices and how to stay safe while having fun this summer. Diamond was happy to sponsor a bike safety raffle so that a lucky kiddo could practice safety tips while having fun this summer.
Dog Days of Summer Community Event
Photo: Diamond team at the community event, Dog Days of Summer, in Royersford with their four legged friends.
Some of our team members got the chance to show off their four-legged friends while supporting the rescue dogs in the area. The Spring-Ford Chamber of Commerce hosted the first Dog Days of Summer, an event that supports dogs and offers dog friendly events and items. At the event there was a dog walk for charity where participants walked to support the dog rescues at the event. All the funds raised were donated to the rescues.
Children's Home of Reading "Be a Hero" Family Movie Night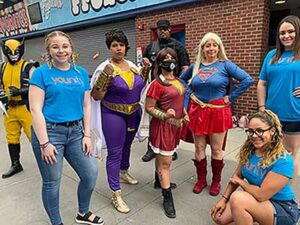 Photo: Diamond heroes with the Children's Home of Reading heroes at the community event "Be a Hero" Family Movie Night.
We like to think that our employees are heroes every day, but this especially applies for this event. Our heroes went to First Energy Stadium to support The Children's Home of Reading, a non-profit that offers health and education services for at-risk youth and their families. The volunteers that participated helped set up tables to check families in, manned the gaming stations for the children and then cleaned up after the event.
A Big Thank You
Thank you to everyone that participated in these events to support Diamond's efforts in improving the community.
Being involved in our communities…That's younity.