April 8, 2015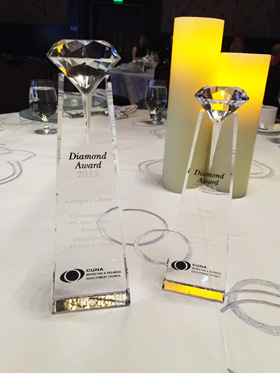 Diamond Credit Union was recently presented with two Diamond Awards, including a Category's Best Award. The national awards recognize outstanding marketing and business development achievements in the credit union industry. The awards were presented by the Credit Union National Association (CUNA) Marketing & Business Development Council, a national network comprised of over 1,200 credit union marketing and business development professionals. Awards are given in each of 29 categories ranging from advertising to community events and beyond.
Diamond CU won a Diamond Award in the Brand Awareness category, for their "That's younity" campaign, featuring real members and employees with a focus on Diamond's commitment to the local community. The brand campaign was designed by Finch Brands. In addition to the Brand Awareness Award, Diamond CU won a Category's Best Award for Community/PR (One- Time Event), with their Hail Storm Loan Discount. The Hail Storm Loan Discount was offered to members who needed to replace their vehicles after an unexpected hail storm caused drastic damage to thousands of cars across Berks County.
"The Diamond Award competition is the most prestigious competition for excellence in marketing and business development in the credit union industry," said Michelle Hunter, Chair of the CUNA Marketing & Business Development Council, and SVP of Marketing & Development at Credit Union of Southern California. "Credit unions who receive these awards should be extremely proud of their accomplishments and know that their work represents the very best examples of creativity, innovation, relevance, and execution. The Diamond Awards are not easily earned and the CUNA Marketing & Business Development Council is proud to honor those who are deserving of this recognition."
Award winners were recognized at the council's 22nd annual conference held March 25-28 in Las Vegas, Nevada.