April 13, 2023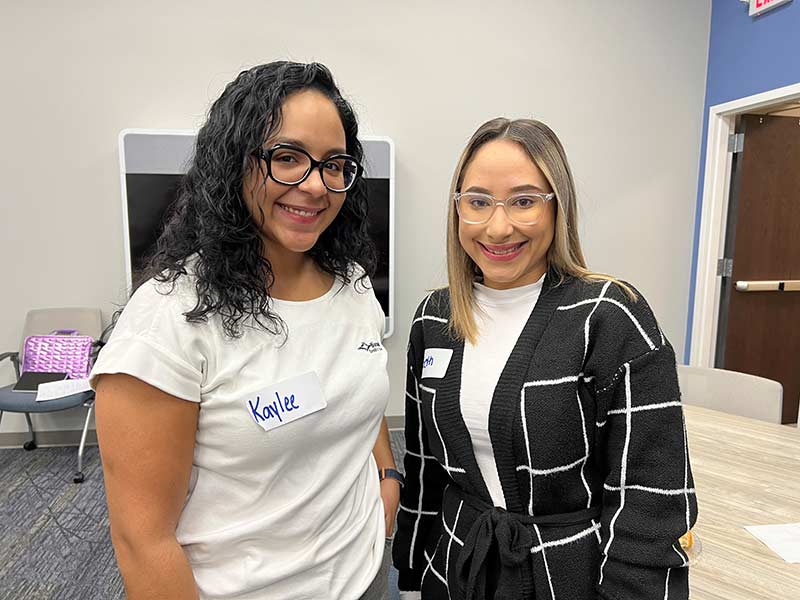 Photo: Diamond's Exeter Assistant Branch Manager, Kaylee Alvarez and Wyomissing Branch Membership Officer, Lizbeth Vega, at the introduction meeting for United Way's Blueprint for Leadership program on March 30.
Two Diamond Credit Union employees will participate in the United Way's Blueprint for Leadership program from April through the beginning of May.
Diamond's Exeter Assistant Branch Manager, Kaylee Alvarez, and Wyomissing Branch Membership Officer, Lizbeth Vega, are representing Diamond.
Blueprint for Leadership
The Blueprint for Leadership program was designed to train and support under-represented groups to succeed in positions of leadership in local nonprofit and community organizations. The goal is to have people in leadership roles be representative of the communities they serve. Every week from April to May, participants meet at a local nonprofit and take part in workshops.
These workshops expand communication, improve interpersonal and leadership skills, and allow employees to be more connected to multi-cultural communities. Some class topics include public speaking, roles and responsibilities of board members, strategic leadership and nonprofit governance.
"Our mission is to give back to the community and this program gives our employees an opportunity to fulfill that," Diamond's Vice President and Chief Human Resources Officer, Beth Walton said. "Blueprint for Leadership will prepare Kaylee and Lizbeth to succeed in leadership roles in nonprofit organizations that support the community, and allow them to grow personally and professionally."
Throughout the program, Alvarez and Vega will have mentors to help support them. Diamond's Retail Delivery Manager, Andrea Sawchuk Moyer, and Diamond's Pottstown Branch Manager, Amy Frizzell, will guide them through workshops and offer advice.
"This program will help me get out my comfort zone as an individual and as a teammate," said Vega. "It will help me prepare for other leadership roles at Diamond, and allow me to maximize my potential."
Vega also added the importance of participating in this workshop because she has an opportunity to serve her community. "I get to represent the community as a young, Latina, woman. Growing up I didn't see many women represent me, and I want to be a role model and lead by example."
After Blueprint for Leadership
Once Alvarez and Vega complete the program, they will volunteer on a committee or board and be a voice for their community. By learning and growing through Blueprint for Leadership, they will help Diamond better serve the surrounding communities and the organization's members.
Bringing opportunity to every member of our community…That's Younity.