Become a Member
Online in 5 Minutes
Join your friends and neighbors in belonging to an award-winning credit union!
Diamond Credit Union is the 15th largest credit union in Pennsylvania, and currently holds over $900 million in assets with over 64,000 members. Since 1947, they have invested in their commitment to genuine, personal connections with their members.
As a full-service, community-chartered credit union, they serve Berks, Montgomery, Chester and Bucks Counties in southeastern Pennsylvania. Six free-standing branches, a local Call Center, and a branch within the Tower Health Reading Hospital make Diamond a convenient choice as your credit union.
Competitive interest rates on loans
Higher returns on your savings
Low or no fees for services
Featured Member Services
Convenient Online and Mobile Banking
Free NetBranch Online Banking Access (Review account activity, transfer funds, access your statements, & open accounts online)
Mobile Banking App (Deposit checks, transfer money, check account balances, communicate electronically, pay bills, and more. Conveniently access your account anywhere, anytime!)
In-Person or Virtual appointments available
Options for Health Savings Accounts to help pay for medical expenses for yourself, your spouse, and your dependents.
Checking/Savings Accounts
Free access to the Zogo financial learning app
Diamond VISA Debit Cards give you access to the region's largest No-Surcharge ATM Network – over 75,000 ATMs worldwide. Enjoy free, unlimited ATM transactions.
Diamond Credit Union – Financial Decisions Made Locally
About
Diamond is a not-for-profit, member-owned credit union. As a credit union, our profits are shared with our members – that means the more we grow, the more you benefit.
Our Credible History
FAQ
Get peace of mind with answers to all of your questions on member accounts, electronic services, loans, credit unions vs. banks, and more.
Got Questions?
Eligibility
If you live, worship, attend school, work, or regularly conduct business in Berks, Montgomery, Chester, and Bucks counties, you are eligible to join Diamond Credit Union.
See Requirements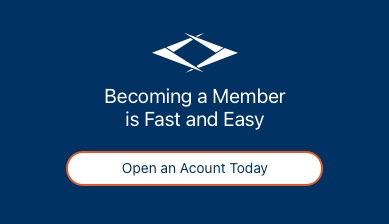 In the next 5 minutes, you can:
Open a Checking Account
Open a Savings or Club Account
Open a Money Market Account
Register for NetBranch Online Banking
Receive E-Communications (statements, notifications, and alerts)
Set up Direct Deposit to your new account
Protect yourself with Overdraft Protection