June 4, 2019
The Greater Reading Chamber Alliance honored Diamond Credit Union as one of its Top 50 fastest growing businesses in the area. Diamond received the honor at the Greater Reading Chamber Alliance's annual awards dinner on May 30.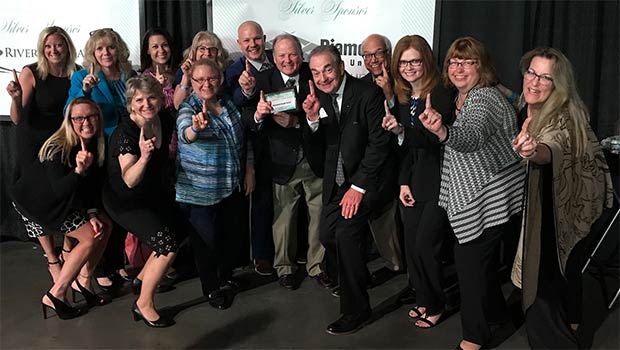 Diamond Credit Union board members and staff pose with the Greater Reading Chamber Alliance's award for ranking among the top 50 of the area's fastest growing businesses. Pat Austin, Chairman of the Board of Diamond (center), holds the plaque.
Aaaayyy! Whoa!
Hollywood legend Henry Winkler, widely known for his role as Arthur "Fonzie" Fonzarelli on Happy Days, was the keynote speaker. Winkler has played other well-known roles, produced, and directed, during his entertainment career which goes back almost 50 years.
Like Winkler, Diamond has evolved and maintained success. 2019 is the 12th year in a row that Diamond has ranked among the Top 50. The Greater Reading Chamber Alliance began the annual rankings in 2006.
"To be on the Greater Reading Chamber Alliance's Top 50 list for 12 consecutive years is an honor and means we've been able to sustain growth year-after-year," said John Faust, President/CEO of Diamond Credit Union. "That growth is powered by the commitment of our long-time members, and the faith of our newer members in Diamond's vision."
Where Diamond ranks among fastest growing businesses
Businesses are ranked according to revenue growth. Diamond was ranked 16th overall and first among credit unions. The ranking is up three spots from 19th in 2018. The nominations for the Top 50 Businesses are compiled by an independent financial services firm for the Greater Reading Chamber Alliance.
Diamond Credit Union has branches in Pottstown, Wyomissing, Exeter, Boyertown, Tower Health Reading Hospital, Royersford and will open a new branch on the 5th Street Highway in Muhlenberg this fall.
Bringing opportunity to every member of our community … that's younity.