August 1, 2019
When you're looking to move out of your current home, you have many decisions — possibly including whether you should build or buy a house. Each option has its advantages. Buying an existing home allows you to move quickly (the average closing process can take 30-60 days, while a new home build can take 3+ months) and gives you the opportunity to put your DIY skills to work on a fixer-upper. Building a new home gives you a pristine environment, never lived in by anyone else, and allows you to pick the finishes and upgrades you want from the very first step. But, when it comes down to the cost, you may find yourself wondering which is the best investment, building a new home or buying an existing home?
"There are both advantages and disadvantages to either buying an existing home or building a new home. As with all big decisions, make sure to do your research, in order to ensure that you make an informed decision that is the best for you and your family," suggests Ben Huard, Sr. Real Estate Originator at Diamond Credit Union.
The Cost of Building a House vs. Buying a House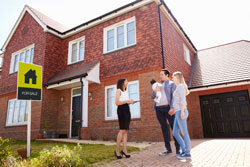 According to realtor.com, the median listing price for homes in the Pottstown area is $162,900. This breaks down to $100 per square foot. Additionally, the national median price of building a single-family home is $289,415 or $103 per square foot. Because newer homes tend to be larger, you can get more home for the price. When you look at the cost of a new home in these terms, there may not be a huge cost advantage to buying or building.
But beyond the price per square foot, there are additional costs you need to factor when determining the cost of building a house vs. buying a house. These include:
Maintenance — The individual components of an older home (roof, windows, heating and cooling system, and plumbing) have undergone a lot of wear and tear over the years. In contrast, in a new home, you may be able to go 15-20 years before you need to make any major repairs. However, in a new home you will need to dedicate money and resources to establishing landscaping on your property, including growing a healthy lawn, trees, and shrubbery.
Energy Efficiency — New homes built with a developer typically come with top-of-the-line, energy-efficient appliances, lighting, HVAC, insulation, and windows. Together, this can save you hundreds of dollars each year in energy bills. In an older home, you may see higher energy costs.
Appreciation — With an existing home, you can see the price history of your home and other homes in the area, to see how home prices increased or decreased over time. This will give you a good idea of the eventual re-sell price of the home. With new homes, especially those in newer neighborhoods, there is no history of property values to use as reference.
The Cost of Upgrading an Older Home
As mentioned above, maintenance and repair costs will be higher when you purchase an existing home, especially if the home is over ten years old. The American Society of Home Inspectors has determined that the average home needs a 50% replacement over a period of 30 years.
In the first 10 years, a home will need a 7.5% replacement (0.75% each year)
From 10-20 years, a home will need a 15% replacement (1.5% each year)
From 20-30 years, a home will need a 30% replacement (3% each year)
These are some of the major repairs you may need to make (sooner rather than later) when you purchase an older home. The national average costs for these common areas are:
Install a new roof: $6,626
Install a new furnace: $3,881
Install new windows: $4,745
Paint a home's exterior: $2,575
Install a new water heater: $888
Install a new sump pump: $1,065
Repair a deck: $1,379
Financing Options: Building New vs Buying Existing
Another thing to consider is that the financing options and processes will be different when you're building new vs. buying existing. Here is a breakdown of the mortgage and construction loans that you should understand.
Buying a Home
Buying an existing home offers the easiest mortgage process. Once the offer on your new home is accepted, you can shop around to find the best mortgage rate and terms available to you. In addition to conventional 15-year or 30-year fixed-rate or adjustable-rate loans, you can also take advantage of mortgage options like FHA loans or VA loans.
Build in a Development
When you build in a new home development and work through a developer, the mortgage process is very similar to buying an existing home. There is no need for a land loan or construction loan, as that is all handled by the developer. You simply work with your lender to choose the conventional loan option that best suits your needs. You have the right to use the best mortgage option available to you.
Build on Your Own Land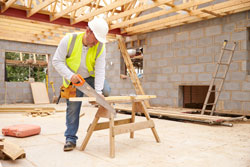 When you build your own home, either with a general contractor or custom home builder, on a piece of land you purchased, financing gets a little more complicated. There are two options for purchasing your land and paying for the construction of your new home. These include construction-to-permanent loans and stand-alone loans.
Construction-to-Permanent Loan — This option allows you to borrow money through a short-term loan (generally 12 months) to pay for the building stage. This is then converted to a permanent long-term loan (15-30 years) after you move into your new home. Although done in two parts, this is essentially one loan and you only need to go through one closing process. The interest on your loan is variable during the construction phase but can be locked in once you move into the mortgage phase of the loan.
Stand-Alone Loan — This option requires you to take out two loans. The first loan pays your construction costs and the second loan pays off your home. You will need to go through the closing process twice, once for each separate loan.
Whether you make the decision to build or buy a house, let the mortgage experts at Diamond help guide you through the lending process.