Diamond Credit Union is once again teaming up with 12 local organizations for this year's season of Royals Hockey! On select Saturday home games, representatives from different organizations will take a shot at the net in our "Shoot for Comm-younity!" event. Every organization will win money for their organization…up to $1000!
Come out to see the Royals play AND support these great organizations in our community!  That's younity!
"SHOOT FOR COMM-YOUNITY!" NIGHTS at the Royals:
2016
October 15th – ROYALS OPENING NIGHT! – The Friends of Reading Hospital
Congratulations on winning $250! Way to go!
November 12th – Veterans Night
Awesome! $100 winner!
November 26th – Hope Rescue Mission Night – Hope Rescue Mission
WOW! $1000 winner! Congratulations!
December 10th – Olivet Boys & Girls Club
Happy Holidays! $100 winner! Congratulations!
2017
January 7th – Platelet Disorder Support Association
Great job! $250 winner!
January 21st – Penn State University THON for Pediatric Cancer
Congratulations! A $100 winner!
January 28th – Berks Encore
Terrific job! $100 winner!
February 11th – Special Olympics Night – Special Olympics
Way to go! $100 winner!
February 18th – Pink in the Rink/Caring for Cancer Night – American Cancer Society
Congratulations on $100 more towards finding a cure!
March 4th – Autism Awareness – Unending Promise and Autism Society of Berks County
Awesome shot! $250 winner!
March 25th – Scout Night – KenCrest EmployNET
YEAH! $100 winner!
April 1st – The Salvation Army of Boyertown
Congratulations! $100 winner!
(Note: Schedule subject to change).
---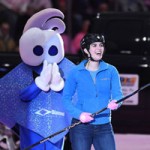 Captured on Video!
Check out this highlight from last year's season! Will it happen again?
From February 13th, 2015 – Pink in the Rink/Caring for Cancer Night
---