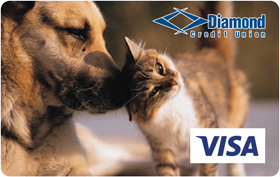 Get Your Favorite photo on Your Debit Card
Make a statement with Diamond's Custom Picture Debit Cards. Create your unique card with your own photos right from your home computer and it will be mailed directly to you. If you are in a hurry, or just like to keep things simple, you can get a Classic Debit Card instantly issued. Stop in any branch to get your card instantly. No matter which look fits your lifestyle, a Diamond Visa Debit Card is unbeatable!
It's Your One Card For Purchases, Cash and Convenience.
Use your debit card to access cash at thousands of No-Surcharge ATMs worldwide. Your debit card also allows you to make point-of-sale purchases at the gas station, grocery store, mall, etc.
Use it wherever you see the STAR, CO-OP, and Visa® logos.
Point-of-sale purchases deduct from your checking account.
Plus, you get the additional security of Verified by Visa at participating retailers. What is Verified by Visa?
Frequently Asked Questions About Custom Picture Debit Cards