On Friday, May 12, 2017, Diamond Credit Union held their 13th Annual Charity Golf Invitational at Golden Oaks Golf Club in Fleetwood, Pa. The event raised over $31 thousand for the American Cancer Society Relay For Life, adding to a 13 year total of over $346 thousand raised at this annual event.


With the support of Golden Oaks' leadership, and the Title Sponsor, E. R. Stuebner, the event was rescheduled from an original date of May 5th, in order to avoid massive rainfall and storms. Despite the date change, over 150 golfers came out for a beautiful day, with some postponed Cinco de Mayo inspired fun, including margaritas and tacos for lunch.

Not Your Average Golf Outing
The event featured two sessions of golf with fun extras on the course including contest challenges, Hole-in-One prizes, a Pot of Gold Challenge, Golf Ball Cannon, and a "Beat the Diamond Guy or Gal" contest. Back at the clubhouse, AM golfers received breakfast and lunch, and PM golfers received lunch and dinner. Door Prizes were given out and there was a large chance auction that golfers can participate in for items like Philadelphia Flyers tickets, Philadelphia Eagles Tickets, Penn State Football Tickets, Gift Baskets, and more. Winners were recognized and prizes were given out at the end of each session.

Making an Impact in the Fight Against Cancer
Numerous sponsors make the event happen each year. This year, E. R. Stuebner was the title sponsor of the event. The team at Diamond CU reaches out to every partner and vendor to help make this event impactful in the fight against cancer. "We're so thankful for the continued support we receive from our sponsors. Without their gracious donations, and our great relationship with Golden Oaks Golf Club, we couldn't make this event a success," stated Jim Daly, Charity Golf Invitational Chairman.
John Faust, President/CEO of Diamond CU, had this message for the golfers, "My hope for you today is that you enjoy yourself, laugh with friends, eat, drink, and be merry. And also take a moment of silence to reflect on how cancer has affected your life. As you overlook the pink ribbon at Hole 17, while you admire the cherry blossoms, or when a particularly glorious ray of sunshine reflects on the pond, say,'Hang on guys. Let's take a second,' and be silent. Remember those who were lost and celebrate those who have survived. Honor caregivers and medical professionals, and your own strength. We're here to make a difference in the fight against cancer, and you are helping."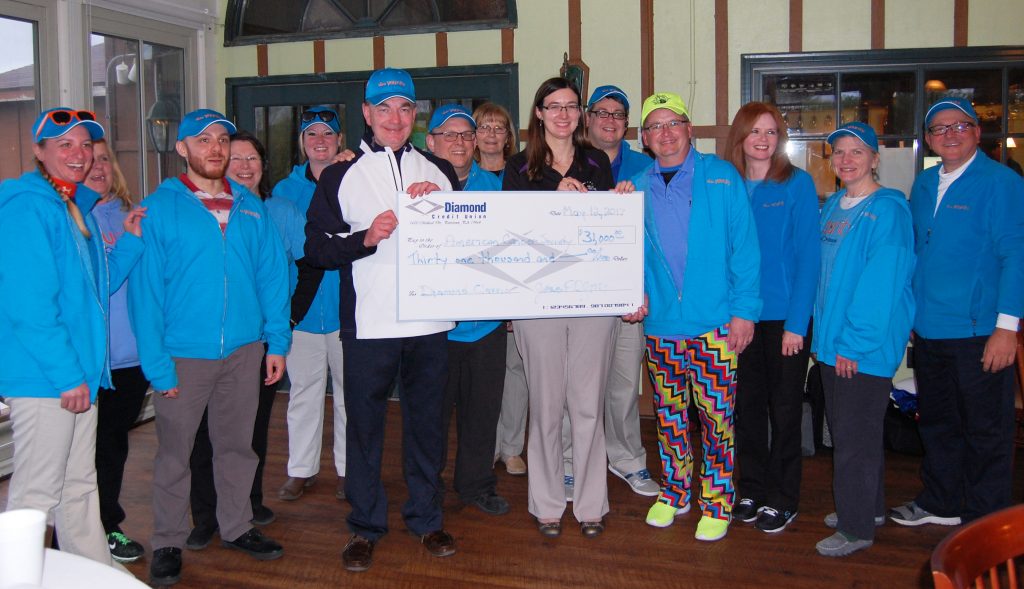 The Fight Against Cancer Isn't a Sprint, It's a Relay
Diamond's Annual Golf Invitational is the largest fundraiser that the Diamond's Hope Relay Team hosts throughout a year-long string of events, adding to a total Relay donation of over $736 thousand and counting. The Charity Golf Invitational Co-Chairmen are Jim Daly, VP/Chief Information Officer, and Todd Rothenberger, Sr. VP/Chief Marketing Officer, with support from dozens of Diamond staff volunteers, vendors, and partners. To get involved in more of Diamond's Relay fundraising activities, please visit diamondcu.org.
Doing our part in the fight against cancer…That's younity.
---
Suggested Links:
Making choices that benefit your community: Find out how to help the Relay For Life or other charitable organizations today.
Keep up with Diamond in the Community with the calendar of events.