New/Used Auto & Motorcycle Loans
Diamond's new and used auto and motorcycle loans offer a distinct advantage over other loans. Diamond's auto loans feature:
Extended financing options (up to 7 years) available.
The same loan rate for both new and used vehicles.
Up to 115% financing, including taxes, tags and extended warranties.
Flexible payment plans.
Pre-approvals online. Refinancing is also available.
Models older than 6 years are priced at unsecured (signature) rates.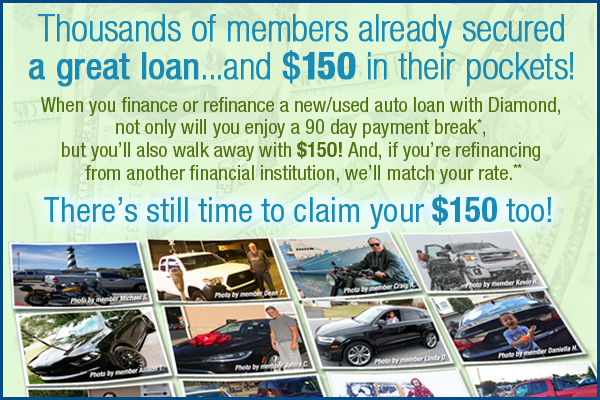 Offer valid on all new or used auto or motorcycle loans directly financed by Diamond Credit Union or refinanced directly from another financial institution to Diamond Credit Union. RV financing, existing Diamond Credit Union loans, and Diamond Credit Union loans obtained through a third party such as partner auto dealerships are not eligible for this offer. A $12,000 minimum loan amount is required to qualify for the $150 promotional offer. The $150 will be transferred into the member's savings (S1) account once the loan is funded. If the loan is then refinanced from Diamond to another financial institution within 90 days of the purchase/refinance the promotional $150 will be added to the loan payoff amount. Must be 18 years of age to qualify. Promotional incentives may be subject to income reporting. Certain conditions and restrictions may apply. Offer valid for a limited time, please see a DCU representative for more details. *Interest will continue to accrue during the 90-day payment break and may extend the term of the loan. **Not all who apply or refinance will qualify for the rate match. Rate matches on refinanced auto loans are subject to credit requirements.
Auto Express Loan
Ready to buy a car? Whether you've already found the perfect car or just want to be prepared to drive one right off the lot, Diamond's Auto Express Loan may be just what you need. Apply now and qualified applicants will receive a check to take to any dealership to make your purchase and drive your new car right off the lot…regardless if you're still shopping or if you're ready to seal the deal.
Get your car in just 3 easy steps:
1) Get pre-approved for the maximum dollar amount to spend.
2) Sign the disclosures and receive your check.
3) Find your car, fill out the check, and drive away!
Extended Warranty
The Extended Warranty coverage, also referred to as Mechanical Breakdown Protection (MBP), provides protection against mechanical breakdowns beyond your existing manufacturer's warranty. Even the most reliable vehicle can develop a mechanical problem. For years, auto dealerships were your only option for purchasing an extended warranty. The Extended Warranty program from Allied Solutions provides protection against the increasingly high cost of repairs and associated labor costs for mechanical and electrical vehicle failures.
Nationwide Coverage.
No Deductible on covered parts and labor with direct payment to the repair facility.
Emergency Road Services including Towing, Flat Tire Assistance, Battery Jumpstarting and Lock-Out Service—24-hours a day, 7 days a week, 365 days a year.
30-Day Money Back Guarantee – cancel for any reason within the first 30 days and get a full refund provided you have not submitted a claim.
---
Guaranteed Asset Protection (GAP)
GAP covers the deficiency balance on your loan in the event of a total loss or theft. Most insurance companies only pay the Cash Value of the vehicle at the time of the loss. Your remaining loan balance could be much greater than the Cash Value of your vehicle creating a deficiency of several thousand dollars that you're liable for!
(Note: Application is not optimized for mobile viewing.)
New/Used Motorcycle
Loan Disclosure
| | | |
| --- | --- | --- |
| Motorcycle | Term | Rate |
| | Up to 36 months | 2.99% APR |
| | 37 to 66 months | 3.74% APR |
| | 67 to 72 months | 4.24% APR |
| | 73+ months | 5.29% APR |
(Note: Application is not optimized for mobile viewing.)
First Time Auto Buying Program