Join us on Friday, May 11th for a fun day in support of the American Cancer Society!
The fourteenth Annual Diamond Credit Union Charity Golf Invitational promises to be another great event. We would love to have you there for a fun day of golf, food & spirits, unique activities, and great people, all for a very important cause.
Our number one priority is that all of our golfers have a great day. Your experience will start with an impressive gift bag and a delicious breakfast to fuel your day of fun. Then you'll enjoy a round of golf at the beautiful Golden Oaks Golf Club. There will be opportunities to win lucrative prizes and participate in amusing activities throughout the game. After your round of golf, enjoy lunch with your fellow golfers as we present prizes to the day's winners. The day is filled with great people, lots of laughs, and never a dull moment.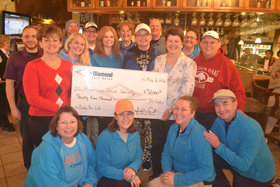 This fantastic event has consistently been Diamond's top fundraiser for the American Cancer Society Relay For Life, thanks to the continued support of so many of our partners, vendors, and friends. To date, the Diamond's Hope Relay team has raised over $800 thousand for the American Cancer Society and we take pride in knowing that the funds go toward supporting cancer patients in our local area, prevention education and initiatives, and research to once and for all find a cure. Over the years we have seen great strides in cancer prevention and detection, with huge declines in cancer death rates, but there is still much more to do. Please join us in our fight against cancer.
Morning session available for singles and foursomes.
REGISTER ONLINE NOW FOR THIS GREAT EVENT!
(Sponsorship opportunities and payment options will be presented during registration.)
---


Please don't keep this great event a secret. Invite your friends and colleagues to join us as well! Reserve your spot now!
Sponsorship Deadline: April 27, 2018
Registration Deadline: April 27, 2018
Use the Online Registration link above for quick and easy registration.
---