Upcoming Holidays/Special Events
Want to get involved? Contact Us anytime for more information on these and other fundraising events on our calendar!
---
Friday, May 24, 2019 – Hot Dog Day & Bake Sale
Pottstown Branch Atrium – 10am to 3pm
Enjoy a delicious bite or a sweet treat and help a great cause in the process.
All proceeds benefit the American Cancer Society Relay For Life.
---
Monday, May 27, 2019 – Memorial Day
All Diamond Branches will be CLOSED in observance of this holiday.
---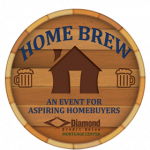 EARLY REGISTRATION NOW OPEN!
Tuesday, September 17 – HOME BREW for Aspiring Home Buyers
6:00-8:00 pm – Chatty Monks Brewing Company, 610 Penn Ave, West Reading
REGISTER FOR THE SEPTEMBER 17TH EVENT
For aspiring home buyers who want a partner in the home buying process. Join Diamond Mortgage experts and real estate professionals to chat about hot topics home buyers most often seek understanding about, while enjoying complimentary drinks and food. This no-cost, educational event is open to all people age 21 and over. Diamond membership not required. For more information and to register for this free event, visit the Mortgage Center.