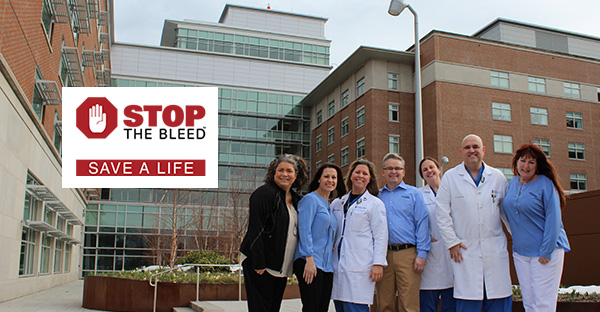 The Reading Health System Trauma/Neurocritical Care department is launching a Stop the Bleed initiative with the goal of training civilians throughout our community to use life-saving techniques that will keep patients from losing too much blood before medical professionals arrive. The Trauma Center has already created educational materials to display on hospital campuses, but their goal is to teach classes and provide needed equipment at various high-crowd areas throughout our community. To start this, they needed support to purchase a training simulator that can be used to teach people how to stop uncontrolled hemorrhage due to a traumatic injury.
How Can Diamond CU Help?
The staff of the Diamond Credit Union branch located inside the Reading Hospital was incredibly excited to be at the forefront of this important initiative. The team made Stop the Bleed the focus of their annual Diamond Cares fundraising drive. The Diamond team was able to raise/donate a total of $1,000 for the Trauma Center to buy the training simulator.
"What we love most about the Stop the Bleed program, is that the goal is to get this information out to the whole community. Giving everyday people the tools to save lives is a noble venture and it really speaks to Diamond's culture of community involvement. It's also a great extension of our partnership with the Reading Health System for over 20 years. We're so thankful for the opportunity to help and we look forward to helping the program grow even more" stated John Faust, President/CEO of Diamond CU.
Bringing opportunity to every member of our community…That's younity. 
---
Suggested Articles:
Running For the Health of Berks County
Local Students Get Real Life Lessons from Diamond CU
5 Things You Need to Know About Improving Your Credit Health