It's Time to Vote for 2017!
Cast your votes for the 2017 Readers Choice Awards!
Click the Readers Choice logo below to nominate (cast your vote) for Diamond as your choice in Credit Unions, Financial Planning, and Banking. Go to the BUSINESS SERVICES block and select the categories there.
Nominations (votes) will be accepted until July 31, 2017.
Thank you in advance for your belief in and support of Diamond Credit Union as your partner for financial success.
Working together for better communities and better financial futures…That's Younity!
---
Readers Choice 2016 Press Release
Thank YOU for voting Diamond Credit Union the top choice in all three financial categories during the 2016 Reading Eagle Readers Choice Awards!

We're so thankful for the support of this amazing community who sees Diamond as a valued alternative to big banks. We see this as a strong indication that we are providing you with the absolute best service and products that fit every phase of life. Thank you for telling us we're doing a good job. We promise to keep it up!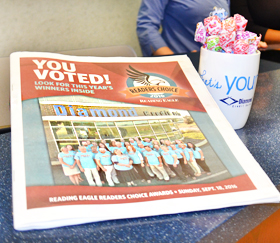 This is the third consecutive year that Diamond CU has been named the Readers Choice in Credit Unions and the second year in a row that we've also been named the Readers Choice in Financial Planning and Banks! In 2016, we also received the highest number of votes overall of any business in any category. Voting took place through online and paper ballots from July 10 through July 31, 2016. The list included dozens of local businesses covering topics such as business services; business and recreation; food and drink; health and fitness; home services; shopping; and transportation.
And you're not seeing double. Diamond just recently announced being named one of the Top Places to work in PA. This is a completely separate award and is dedicated to identifying distinguished leaders in workplace excellence.
READERS CHOICE AWARDS:
Best Credit Union
Diamond CU is owned by over 57,000 member-owners and governed by a volunteer Board of Directors, so this award is as much YOURS as it is ours. This is your credit union and we're so happy to have each of you as members. You are truly the best!
Best Financial Planning
We love this category because at Diamond we're not just about savings accounts or checking accounts with online services, we are in the business of helping members meet their goals. From that first kid's account deposit from a piggy-bank, to your first car or home, and all the way to retirement, we're with you every step of the way. Thank you for trusting us with your dreams. Together we can make things happen.
Best Bank
Did we read that right? Wow. When you consider the sheer amount of customers at the big banks in our area, it's really making a statement that more people voted for Diamond in this category. We also see this a great indication that the local community is realizing the worth of credit unions as a powerful alternative to big banks. Thank you all for your support, your votes, and especially your membership.
Thank you to all who voted for us…That's younity!