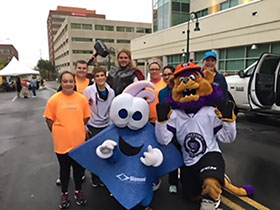 On Sunday, October 15, 2017, over 600 runners participated in the Reading Hospital Road Run Half Marathon, 5K, and 1-Mile races which resulted in a hugely successful event. The Reading Hospital Road Run benefits the 'Friends of the Reading Hospital,' which is a nonprofit organization that funds programs to improve healthcare throughout the community. The estimated fundraising total for this year's event totaled more than $70,000.
The runs began from the William Penn Fire Tower in Mount Penn and took over Center City Reading. Diamond Credit Union once again was the Tower Sponsor of this annual event. In addition to being the lead sponsor of the event, Diamond Credit Union volunteers were on hand to help distribute medals and water. Oh, and we can't forget about Diamond's mascot, Chip, who was in attendance cheering on the runners.
"Congratulations to 'The Friends of the Reading Hospital' for putting this fantastic fundraising event together. We at Diamond love being a part of this event, and are so proud of how much it has grown over the years," stated John Faust, President/CEO of Diamond Credit Union.
Running for the health of Berks County…That's younity.