On Tuesday, July 25, 2017, Diamond Credit Union held a groundbreaking ceremony at the site of their new branch in Limerick Township, PA. The new branch will be Diamond's 6th location and will be located at 22 Anchor Parkway, Royersford, next to Outback Steakhouse.
This 7,100-square foot, state-of-the-art, free-standing, full-service branch will offer all the products, services, and personal attention that Diamond is known for. Residents will love the added convenience of "cash and caffeine" as a portion of the building will be occupied by a Starbucks Coffee House.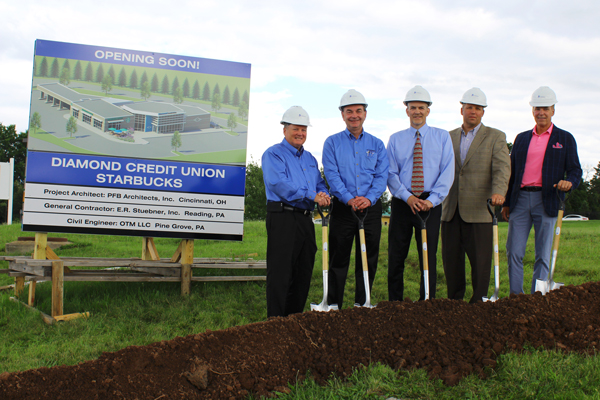 Pictured above (from left to right): Pat Austin, Chairman of the Board; John Faust, Diamond President/CEO; Jeff Evans, CEO of PFB Architects, Inc.; Doug George, EVP/Chief Operations Officer of E.R. Stuebner, Inc.; Peter Radwanski, CEO/Owner of E.R. Stuebner, Inc.
"We are very excited about opening our 6th location in the emerging residential and commercial area of Royersford. Teaming up with Starbucks is unique to the area, and will offer a better, more convenient experience for our members. Let the construction begin!" stated John Faust, President/CEO of Diamond Credit Union.
Construction is expected to last 10 months, allowing for an opening date in mid-2018.
Bringing opportunity to every member of our community…That's younity.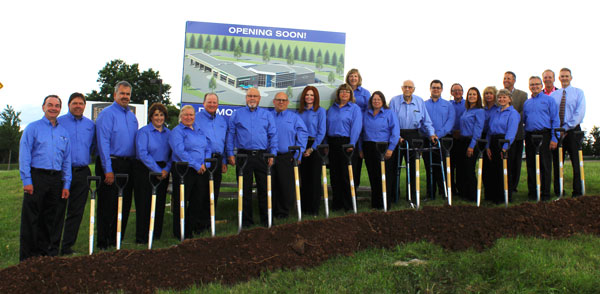 Diamond Credit Union Executive Management, Board of Directors, project architects and contractors, and special guests gather at the new branch site for the groundbreaking ceremony.