The 14th Annual Diamond Credit Union Charity Golf Invitational raised $37,000 on Friday May 11, 2018 at Golden Oaks Golf Club in Fleetwood, Pa. The tournament benefited the American Cancer Society.
The donation to the American Cancer Society was a Diamond tournament record and brings the credit union's lifetime donation to $371,401 for the event. Since partnering with the American Cancer Society, Diamond's golf tournament, and additional year-round fundraising events, have generated nearly $850,000 in donations.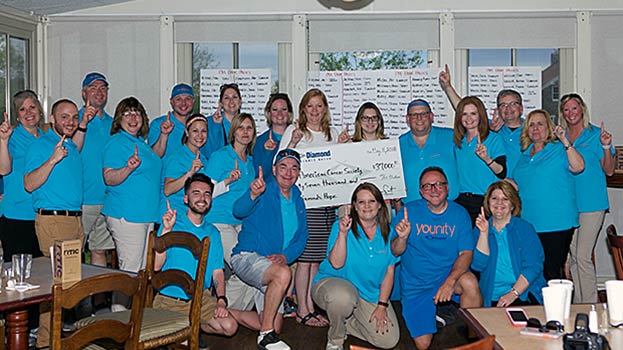 Diamond Credit Union Charity Golf Invitational volunteers present a check to Wendy Benedict and Jules Fama, Community Development Managers from the American Cancer Society.
Please enjoy our tournament photo gallery on Facebook
"The record-setting donation would not have been possible without the tremendous support from the many members, vendors, partners, volunteers, friends and family that support this tournament," said John Faust, President and CEO of Diamond Credit Union.  "We thank them for making this tradition a lot of fun and impactful to so many who rely on the American Cancer Society."
Many to Thank
Led by title sponsor E.R. Stuebner Construction, a great mix of new and long-time Diamond members, vendors, and partners made the record-setting donation possible with their generous contributions.  Funds were raised through greens fees, raffle prize donations, and sponsorships. Sponsored items included: carts, meals, beverages, greens, tees, golf balls, contest holes and the Diamond Golf Ball Cannon.
Several tees and greens were sponsored by families in memory of, and in honor of, loved ones who have battled or defeated cancer. Those images were another powerful and inspiring reminder as to why we have gathered for 14 years.
Many area businesses happily ensured no one left empty handed through the generous donation of door prizes and gift bag items.
Fun and Competition
In addition to jam-packed gift bags and door prizes, more than 175 golfers enjoyed giving back, camaraderie, a gorgeous day, impeccable course conditions, two meals, and refreshing beverages.
The seventeenth hole was the location of the Diamond Golf Ball Cannon. Golfers had the option to leave their drivers in their bags and blast their tee-shot with the cannon.  To make the most of the cannon's awesome power, the 375-yard par-4 was also a Closest-to-the-Pin contest hole. Rick Umani proved to be the tournament's top marksmen firing his cannon shot seven feet from the pin.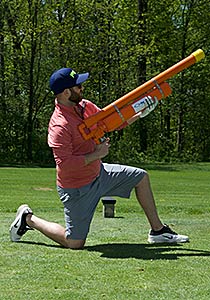 Salute to Volunteers
The Diamond Credit Union Charity Golf Invitational volunteer team is chaired by Jim Daly, VP/Chief Information Officer and Todd Rothenberger, Sr. VP/Chief Retail Delivery and Marketing Officer.  They are supported by dozens of staff, who like them, worked the event, stuffed prize bags and recruited sponsors, golfers and prizes.
Charity Golf Invitational Overall Winner
The American Cancer Society
Top Teams – Morning Golf Session
1st Place, 59 – Adam Hartzell, Steve Clark, Jeremy Bushweller, and Eric Russell
2nd Place, 61 – John Griffith, Jeff Deysher, Les Jarsocrak, and Mark Werner
3rd Place, 64 (Match of Cards) – Steve Murray, Mark Robinson, Dave Hurst, and Bill Love
Top Teams – Afternoon Golf Session
1st Place, 56 – Anthony Clemente, Michael Bowers, Harry Bowers, and Brian Golembiewski
2nd Place, 57 (Match of Cards) – Joey Filippini, Todd Vanek, Dave Speece, and Brian Weller
3rd Place, 57 – Mark O'Connor, Chris Terebesi, Rick Umani, and Hugh McDonald
Contest Hole Winners
#2 Straightest Drive – AM: Kristin Byers (W) and Brandon Kirsch (M); PM: Carolyn Brooks (W) and Kevin Hall (M)
#4 Closest-to-the-Pin – AM: Randy Boyer, 27'3"; PM Jim Knapp 4'
#9 Closest-to-the-Pin/Bowers Marine Sales Hole-In-One Boat Hole – AM: Eric Russell 8'; PM: Mike Bowers 7'8"
#12 Longest Drive – AM: Jill Myers (W) and Bob Stuart (M); PM: Olivia Setzler (W) and Brian Weller (M)
#13 Closest-to-the-Pin – AM: Mark Gregory 7'8"; PM: Karen Norheim 5'5"
#15 Closest-to-the-Pin – AM: George Kochu 11'2"; PM: Justin Jones 0'8"
#17 Closest-to-the-Pin/Correlation Inc. and Matt Kelly Associates Plant Design Cannon Hole – AM: Steve Gresh 33'1"; PM Rick Umani 7'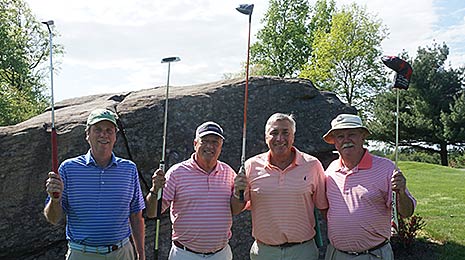 Coming together to fight cancer … that's younity.