December 20, 2016

Holiday traditions are a great way for Diamond employees to blend hard work with fun, like in the funny video at the bottom of this page. But, it's also a great way to spread joy throughout the community. Diamond employees gave back a lot this season, as individuals, teams, and even swallowing their pride for an ugly sweater contest.
A New Spin on Secret Santa: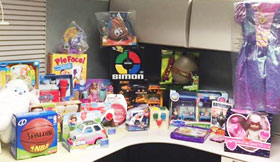 It was once common practice to do gift exchanges between coworkers in a specific department, but in recent years teams have been focusing efforts on charity organizations instead. The lending team adopted a family from the Salvation Army of Pottstown and made sure that the kids and parents weren't forgotten by Santa this year. Four departments banded together to provide gifts and cookies to several military families, most with a family member currently deployed,  through Operation Home Front. The Marketing team opted to support Mary's Shelter with needed supplies and some small comforts for the holiday.
Branches in Your Community: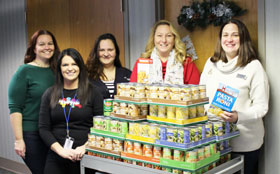 The Wyomissing Branch hosted an Angel Tree for the Children's Home of Reading and the Boyertown Branch hosted one for the Boyertown Salvation Army. In total, the trees resulted in over 100 gifts for local children. The Pottstown Branch led a food drive for the Salvation Army of Pottstown Food Pantry, with help from all the other branches. All together the food drive resulted in over a thousand packaged food items for the community.
Ugly is the New Festive: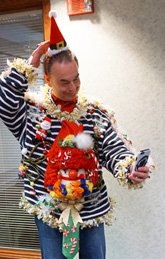 As an extension of Diamond's annual Shoot For CommYOUNITY program at Saturday home games of the Reading Royals, Diamond employees put on their holiday best (or worst) for an ugly sweater photo contest. Each photo supports a charity and the first place team will win $200 for their charity. Second place will win a $150 donation, and third place will receive $100 donation. Right now the Boyertown Salvation Army is in first place!
Vote on facebook through December 21.
Spreading Holiday Joy:
This quick video is sure to put anyone in the holiday spirit:
Spreading holiday joy to the local community…That's younity.