May 14, 2019
The 15th Annual Diamond Credit Union Charity Golf Invitational was a huge success despite little cooperation from Mother Nature. Golfers, sponsors, and staff shrugged off strong storms to raise $31,000 on Friday, May 10, 2019 at Golden Oaks Golf Club in Fleetwood, Pa. The tournament benefited the American Cancer Society.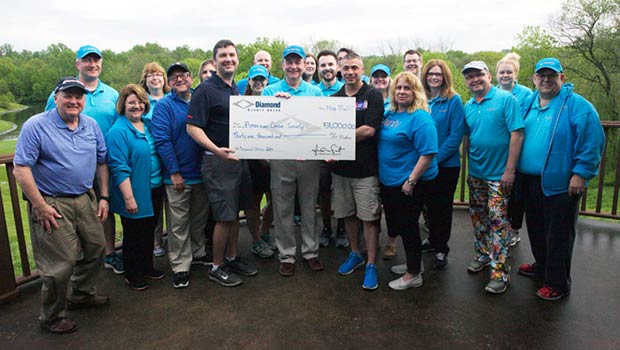 John Faust (center), President/CEO of Diamond Credit Union, presents a check for $31,000 to Mark Stankiewicz (left), Senior Community Development Manager for the American Cancer Society  and James Pepe (right), Community Development Manager for the American Cancer Society, along with Diamond employees who were part of the event.
The donation towards the fight against cancer brings the credit union's lifetime contribution to nearly $900,000 from the golf tournament and additional year-round fundraising events.
"Over the last 25 years, cancer death rates have gone down 27% according to a recent Wall Street Journal Article," John Faust, Diamond's President and CEO said at the course. "Clearly, our contribution is part of something bigger, and we are doing our part to make a difference."
Check out Diamond's Facebook page for great photos from the day's event.
Thank You
E.R. Stuebner Construction was the title sponsor of the tournament. They were joined by new and long-time Diamond members, vendors, and partners who were generous with their contributions.  Greens fees, raffle prize donations, and sponsorships were the primary ways funds were raised. Sponsored items included: carts, meals, beverages, greens, tees, golf balls, contest holes, and the Diamond Golf Ball Cannon.
"We thank the many contributors to this event," Faust, who jokingly referred to himself as Chief Meteorologist for Diamond, added. "No amount of rain can dampen our resolve."
Several families sponsored signs at tees and greens in memory of, and in honor of, loved ones who have fought or defeated cancer. Those signs were a strong reminder that cancer has touched all our lives in some way.
Coming together to fight cancer…That's younity!