May 17, 2019
Diamond Credit Union and the Reading Royals Hockey Club teamed up to give nearly $3,000 to 12 charitable organizations during the 2018-2019 season. The donations were earned through the two long-time partners 5th annual Shoot for Commyounity contest.
At every Saturday Royals home game, on the ice between the second and third periods, a representative from each charitable organization took two shots at a target in goal with a chance to win up to $1,000. The first shot was from the near blue line, the second from the far blue line. Contestants won $250 for hitting the target and $1,000 for putting the puck through a hole in the center of it. Every charity won at least $100.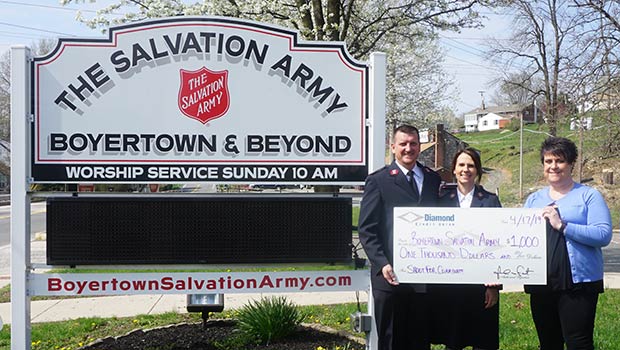 (L-R) Lt. Joseph Smith and his wife, Lt. Rebecca Smith, Pastors and Corps Officers for The Salvation Army Boyertown, accept a check for $1,000 from Renee Huie, Boyertown Branch Manager for Diamond Credit Union. Photo by Anthony Hoey.
The Natural
Taking the shot for The Salvation Army Boyertown on March 23 was Lt. Joseph Smith, Corps Officer.
Lt. Smith never played hockey.
He never shot a puck.
He never watched a game on TV in its entirety.
He was attending just his second Royals game.
He was thinking about remaining upright and not falling on the ice.
He took the shot.
He didn't miss!
Smith smoked his first shot through the hole in the target to win $1,000 for the Salvation Army. It was the lone $1,000 winner of the season.
The Impact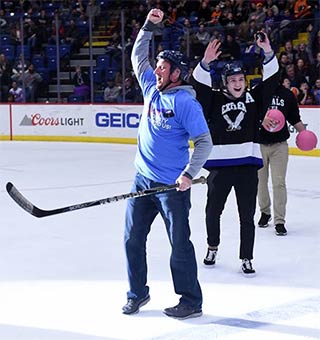 Lt. Joseph Smith celebrates his $1,000 winning shot at Diamond Credit Union's Shoot for Commyounity at the Reading Royals. Photo by Brad Drey/Purdon Photography
Most people are familiar with the Salvation Army's Bell Ringing program. This very recognizable campaign is held November through Christmas Eve each year. The programs supported by the funds raised however, go on all year.
"This came at a fantastic time," Lt. Smith said. "After the Christmas push, funds start to dwindle down. We used this to stock our food pantry to provide our daily meal to the community for free."
The 2018-2019 Winners
Olivet Boys & Girls Club – $250
United Way of Berks County – $100
American Cancer Society – $200
Pottstown Area Police Athletic League (PAL) – $100
Platelet Disorder Support Association / ITP – $100
Philadelphia Flyers Alumni Association – $100
Laney's Legacy of Hope – $250
Reading Hospital Foundation – $250
Julia's Grace Foundation – $250
Salvation Army of Boyertown – $1,000
Autism Awareness – $250
Berks Encore – $100
Teaming up with our local pro sports teams to better our neighborhoods…that's younity.