June 19, 2015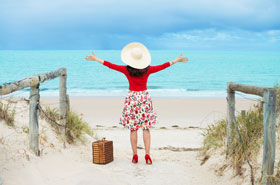 The days are longer, the birds are chirping, and the stores have all switched out displays of coats and gloves with bathing suits and sunglasses. It can only mean one thing… it's time for summer vacation. Whether you're planning a few fun staycations at home, a long weekend close by, or a week out of town, make sure your finances are as ready as your suitcase to have the best vacations!
Here are ten quick tips to get you from "Are we there yet?" to "It's time to unpack!" without any financial hiccups.
Call your financial institution to let them know you will be traveling and where you will be using your debit and credit cards. Without that information your bank or credit union may see a slew of out-of-town purchases and flag your card as being stolen. Dealing with a declined transaction is never fun, even when your credit card company is just looking out for you.
Don't miss paying bills while you're away. If your bank or credit union offers online bill payer, set up payments before you leave. Or, even better, if you're a Diamond member request to skip your Diamond loan payment all together.
Avoid ATM fees. Diamond members have access to over 75,000 no-surcharge ATMs. You can search for an ATM near your destination before you leave with our ATM search or find one on-the-go with the Diamond app.
Don't let your accounts get out-of-hand. Set up customizable E-Alerts to give you a quick email or text message when your account reaches a certain dollar amount, a check you were waiting on clears, or your direct deposit hits your account.
Watch your wallet. Pickpockets love to take advantage of tourists, so make sure you're not an easy target. Consider using a money belt to stow valuables close to your person. If using a purse, choose one with a cross body strap so that it's not easy to grab and run away with. And pickpockets love purses that are easy to get into when you're not looking, so choose a bag with multiple layers of entry, like a zipper and a button flap.
Be cautious of online dangers. Avoid accessing sensitive information on public computers and wifi networks where cyber criminals might be spying on you. Avoid sharing your adventures on Facebook or Instagram until you get back. It's best to not advertise that you're not at home. Criminals will be happy to know that your house is empty.
Hope for the best. Plan for the worst. Unfortunately sometimes we lose or have our important documents stolen on vacation. If you plan ahead by scanning your travel documents and saving them to a secure online cloud, you'll be able to access them from your vacation destination. Or consider carrying a duplicate copy separate from your original documents. Another great tip from ID Theft911 is to register for the Smart Traveler Enrollment Program, which provides comprehensive traveler information including alerts and restrictions; information on visas or vaccinations; laws of the country you're visiting; and consular contact information.
Remember that your mail carrier isn't on vacation. Arrange for a trusted friend to collect your mail and newspapers while you're away, or for extended absences, you can hold delivery. This protects your mail from being tampered with and makes sure that a pile of uncollected newspapers doesn't send a signal to a burglar who may be casing your neighborhood.
Don't overspend. It's easy to splurge on your vacation and come home with an over-stuffed suitcase and a lot of regret. Before you buy that must-have item, make sure you can't find it cheaper online or back in town by using a price comparison app.
And lastly, don't forget your wallet. Road trips should be enjoyed with fun roadside attractions, not a trip back to the house.
Now that you're prepared…go ahead and start your best vacation ever!