January 9, 2023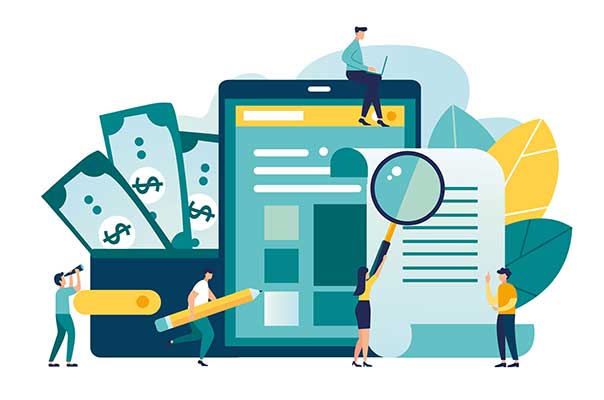 Getting ready to welcome a new member into your family can be an exciting time! As new parents, you've probably started painting the nursery, picking out baby names, and growing your newborn's wardrobe.
But what about preparing your finances? When your family grows, there are different avenues that need to be adjusted to accommodate your newborn.
In this financial checklist for new parents, you'll find guidelines to help you prepare before your newborn arrives, as well as short-term and long-term goals for financial stability.
Before Your Newborn Arrives
The checklist below is a guideline and shouldn't be an added stressor to your planning. This is an exciting time for your family and this list is here to help you budget and financially prepare for a newborn.
#1. Readjust Your Budget
Financial wellness tips suggest the 50/30/20 rule. This means that 50% of your budget should go to your living essentials, 30% to lifestyle expenses like clothing, and 20% should be saved and go toward the future.
Because of the increased cost of having a baby, you will likely have to take some money out of lifestyle expenses. That is if you're following the 50/30/20 rule. There are a couple of different ways this could look, you could put more money into the living essentials in order to support a new baby, or you could add more to your future savings.
Over the last few years, the cost of having a baby has significantly increased. This is largely due to inflation but along with that, daycare centers are accepting fewer children so there is more competition.
In order to appropriately budget as a new parent, you should consider the different types of daycare because that will help outline a more secure budget. We'll discuss, in more detail, different types of daycare later in this financial checklist for new parents.
#2. Consider Adding to Your Life Insurance
A noteworthy benefit to becoming a member at Diamond Credit Union is having the option of different insurances, including TruStage Life Insurance. As your family grows, so should your life insurance. In other words, if you are increasing the number of dependents, it's time to re-examine your current policy.
As a general rule, you can base the life insurance amount on your yearly income times seven. Also, it's important to consider any debt you may be leaving behind to your children. This isn't something that you must do immediately after your child is born, but is an important consideration as you are growing your family.
There are two different types of insurance, term life and whole life.
Term Life: this type of insurance will last for a set number of years. Typically, families choose 10, 20, or 20-plus years.
Whole Life: as the name suggests, this type of insurance will not expire and will last for as long as you pay your monthly premium.
#3 Assess Your Financial Health
In this step of financial consideration when becoming a new parent, be honest with yourself and evaluate your current financial situation. The more honest and realistic you are, the better you can plan.
Every situation is different, so maybe you'll have to drive your car a little longer than you initially wanted, or you won't be able to go out to eat as much. It's best to find smaller adjustments that you can stick with to ultimately save money for your growing family.
#4. Understand Your Credit Score
It's possible that part of your new parent budget means taking out a home equity loan to add a nursery or other home upgrades. If this is the case, it's essential that you have a solid understanding of what your credit score is.
At Diamond, we can provide you with a free credit review to help you ensure you're on the best track to financial security. This will not only help you better understand your credit score but can also allow you to better understand your loan history and the possibilities for your future.
Having a higher credit score makes it easier to qualify for loans. Typically a credit score will range between 300 to 850. To help raise your credit score, make sure your bills are paid on time, you aren't close to reaching your credit limit, and only applying for the credit that you need.
#5 Pay Off An Existing Debt
If you are able, paying off existing debt will help you increase your credit score and help you pursue a new loan if necessary. Credit cards can easily build up debt if payments aren't made monthly, so we'd recommend starting with paying your monthly balance in full so you can eliminate some credit card debt.
There are two methods Diamond recommends to help pay off debt.
Snowball Method. This method means you're paying the smallest amount and taking any extra money you have each month towards this debt.
Avalanche Method. Pinpoint the highest interest rate and decrease the amount of debt in this account.
You can take advantage of mobile banking so automatic payments are set up so there's less risk of missing a month. This is an important financial consideration when becoming a parent because you'll want to focus on providing for your newborn and feeling secure in your financial future.
Short-Term Financial Goals
Think of short-term financial goals before kids as a stepping stone to achieving your long-term goals. These goals should be achieved within the first five years of your child's life, however, some of them will need to happen sooner.
#1. Plan for Maternity/Paternity Leave
Discussing leave options with your employer can help you better plan your finances right after having a baby. Listed below are some questions you should ask your employer before you go on maternity or paternity leave.
Is my leave paid?
How long can I go on leave?
What are my benefits?
Once you know the answers to these questions, you can plan accordingly. This will also give you a timeline on when you need to choose a daycare, and if your budget needs to be further adjusted. You should also ask your employer if they offer Flexible Spending Accounts for dependent care.
#2. Add Your Baby to Your Health Insurance
If you want to add your baby to your current health insurance policy, it must be completed within the first 30 days of your child's birth. Some insurance companies will require you to show a birth certificate, social security number, and verification of birth letter. This letter will be provided to you by the hospital.
A question you may ask yourself is if you can use your health savings account with your child. As long as they are marked as a dependent, you can use the account as a financial resource for your child. At Diamond, we have several options for health savings accounts that you can use to best fit your financial needs.
#3. Choose What Type of Daycare to Use
As discussed earlier in this financial checklist for new parents, there are different types of daycare you can choose from and each will cost a different amount. Below, we'll outline the options you have and the typical cost for each.
Family Care. This is likely going to be your cheapest option since your family will be the ones watching your newborn during the day. However, this may not be an option for every day and may not be as secure as other daycare options.
Nanny/Babysitter. Hiring someone to watch your child usually means you're paying an hourly rate. The cost will then depend on their specific rate and the amount of time you'll need their services.
Child Care Centers. This option is for families that need full day care or want their child to spend time outside their home. This could be a more expensive option with an average cost of $9,715 a year. However, you should look into what expenses are curbed by choosing this option. Some provide food, formula and even diapers which will affect your day to day expenses.
The cost of having a baby is continuing to rise, so it's important to weigh all your daycare options to find one that best suits your family's needs and financial situation.
#4. Claim Your Taxes!
The Child Tax Act gives you a tax break on children that are claimed as your dependents on your taxes. In 2022, the Child Tax Act gives a $2,000 tax credit. One qualification of this Tax Credit is the child must be properly claimed as your dependent on your tax return. You can find more information and qualifying factors by heading to the IRS website.
The Child and Dependent Care Credit is another tax credit that may be an option for you. It's based on your annual household income.
Long-Term Financial Success
Now that we've talked about the first few financial steps that may be necessary for your growing family, it's time to discuss things to think about in the future. Don't worry, most of these items are not ones that need to be checked off immediately, but will be beneficial down the road.
#1. Setting Up a Savings Account
In most financial situations, it's best to start saving as early as you can. Financial planning before and after kids is no different. If you're able, opening a savings account for your new child is a good way to start saving money for them.
This account can be something they get full control over once they graduate, be used as an emergency fund, or just a cushion of money for them to have in the bank. At Diamond, we offer a variety of saving accounts, but junior accounts are most popular for children.
For a junior account, you can deposit as little as $5 to establish your membership. From there, children will be able to make deposits into the account but only the parent or guardian whose name is on the account will be able to withdraw or transfer money.
#2. Create an Emergency Fund
Even with the best new parent budget, you're going to come across hidden costs of having a baby. It's important to be prepared for these mishaps.
Before, your emergency fund may have been for your car getting dented or an appliance in your house suddenly breaking. However, when a new child is in the mix, there are a lot of unexpected situations that may end up costing more than you think.
What happens when your child gets sick or breaks a bone? Although insurance will help you cover some of the costs, you may need to pay a portion out of your own pocket. In a financial emergency situation, evaluate your expenses and talk with any loan lenders about your different options.
#3 Teach Your Children Financial Planning
As important as it is for you to feel financially secure with your growing family, a lesser-known financial consideration when becoming a parent is ensuring that your children also have some knowledge of how to be successful and save early on.
Listed below are some examples of ways to implement financial planning into your child's life.
Create a monthly budget or allowance
Teach them the difference between credit and debit cards
Open a savings account for them
Explain the importance of protecting your personal information
You will also find a host of resources provided by the government for all age groups to learn the importance of financial literacy and planning for the future. You can also find money milestones for teenagers here.
#4 Review Your Estate Plan
This next step in our financial checklist for new parents is not something that needs to be done within a certain amount of time of the birth of your child but should be considered as your family grows. You may want to make adjustments to your estate plan and your beneficiaries.
Especially if this is your first child, it's essential that you name a guardian for them if anything were to happen to you. Additionally, you may want your child or children to receive assets in your life that were previously going to someone else.
#5 Estimate the Cost of Your Children's Education
We've discussed different options for daycare, but this is only going to be the beginning of your child's education. Having a rough idea of what type(s) of education you want for your children can help you plan how much you need to save.
Some questions to consider,
Are you looking at preschools?
Do you think your child will go to a public or private school?
Will you provide any financial assistance with any post-high school education?
The average cost of having a child encompasses a wide range of scenarios and avenues. You won't be able to nail down an exact new parent budget, but by thinking ahead and planning early, you can feel secure in your financial situation.
Discuss and create your unique financial checklist for new parents with a Diamond representative today.